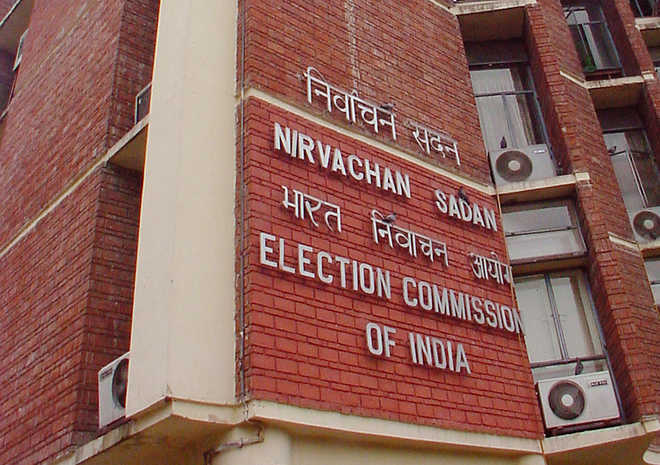 New Delhi, August 27
Some political parties, including the ruling BJP, urged the Election Commission on Monday to link Aadhaar number of voters with electoral rolls to weed out duplicate names, the poll panel said.
"Political parties urged the commission to link Aadhaar numbers with electors' detail for better electoral roll management," an EC statement said here after an all-party meet convened by it ahead of the assembly polls in four states later this year and the Lok Sabha polls due next year.
Seven recognised national parties and 51 recognised state political parties were invited for the meeting. Out of the total 58 parties, 41 attended the meeting.
At least two Election Commission functionaries, who attended the meet, said, "25 per cent" (nearly 10 parties) of the 41 parties, which attended the meeting, made this demand.
In a statement, the BJP said it told the poll panel that immediate steps are required for maintaining voter list in alphabetical order, so that duplicate names can be deleted.
"Initiative could be taken for making a pan India initiative. This could be successfully implemented if the voter registration is linked to Aadhar," the BJP said.
In August, 2015, a Supreme Court order on Aadhaar card had put brakes on the Election Commission's project to link the Unique Identification Authority of India (UIDAI) (Aadhaar) number with voters' electoral data to check multiple entries in electoral rolls.
The commission had then asked its chief electoral officers in all states and union territories to "suspend with immediate effect till further orders" all activities to collect and feed Aadhaar numbers of voters as part of its National Electoral Roll Purification and Authentication Programme (NERPAP).
In its August, 2015 judgement, an apex court Bench has made it clear that Aadhaar card will be optional for availing various welfare schemes of the government and no personal information of the holders of such cards shall be shared by any authority.
"The UIDAI (Universal Identification Authority of India)/Aadhar will not be used for any other purposes except PDS, kerosene and LPG distribution system," it said.
Political parties also expressed concern over paid news and suggested to make it an electoral offence to curb this menace, the statement said.
Seeking to provide a level-playing field for parties in elections, the Election Commission had proposed making paid news an electoral offence to provide a strong deterrent in a bid to stamp out the menace. But its proposal is pending with the Law Ministry since 2012.
Political parties also asked the commission that on the lines of Doordarshan and All India Radio (AIR), free airtime to political parties should be provided on private media for electoral campaigns. — PTI
Top News
Section 124A of the Indian Penal Code dealing with sedition ...
The postings and transfers of the officers have been made on...
Petitioner claims to have been falsely implicated in the cas...
These remarks are made by Gandhi, who is in the US for a thr...
Upadhyay was hit on her left thigh and was admitted to a pri...