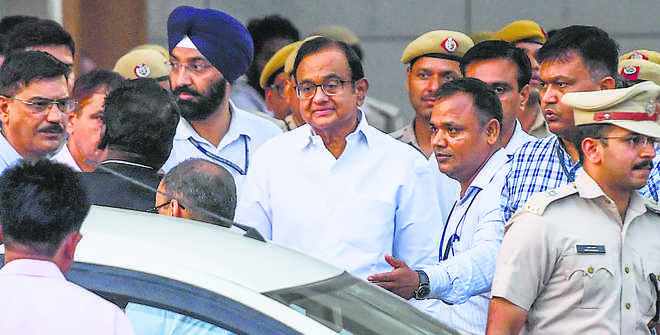 Tribune News Service
New Delhi, August 22
A special court today sent senior Congress leader and former Finance Minister P Chidambaram to four-day CBI custody, saying his custodial interrogation in the INX Media corruption case was justified.
Edit: Onus now on agencies
"Considering the facts and circumstances, I am of the view that police custody is justified," said Special Judge Ajay Kumar Kuhar, giving his custody to the CBI till August 26. Immediately after court pronounced the order, Chidambaram (73) was led out of the courtroom by CBI sleuths. During the custody, Chidambaram will be medically examined regularly, said special judge Kuhar, who allowed his family members and lawyers to meet him for half an hour every day.
The court passed the order after hearing Solicitor General Tushar Mehta for the CBI and senior counsel Kapil Sibal and Abhishek Manu Singhvi on behalf of Chidambaram for more than one-and-a-half hours.
The CBI arrested Chidambaram last night after the Supreme Court refused to give him an urgent hearing on his appeal against the Delhi High Court's verdict, rejecting his anticipatory bail plea on Tuesday. The Registrar (Judicial) had said it would be heard on Friday.
A Supreme Court Bench headed by Justice R Banumathi will take up Chidambaram's petition challenging the HC order on Friday. Earlier, Chidambaram was brought to the newly built court complex at Rouse Avenue amid tight security. During the hearing, Mehta sought five-day CBI custody of Chidambaram, saying there was a need for his custodial interrogation to unearth the quid pro quo and the larger conspiracy, while Sibal opposed it on the ground that all other accused, including his son Karti, had already been enlarged on bail. Mehta said CBI needed to interrogate Chidambaram in custody as he was non-cooperative and evasive in replies. The CBI was not extorting confession from him but it had the right to interrogate him to get to the bottom of the case, he said.
Meanwhile, armed with nearly 100 questions, the CBI team led by Deputy SP R Parthasarthy has started questioning Chidambram. Sources said the team of investigators confronted him with a few questions pertaining to process of clearance and alleged meetings with INX media promoter Indrani Mukerjea before taking him to the special court. The CBI officials said Chidambaram, who spent a quiet night at the agency guest house in suite number 5, was offered a breakfast before questioning began around 10.20 am.
ED officer shifted
Investigating Officer Rakesh Ahuja was on Thursday transferred back to Delhi Police as his term in the ED ended three weeks back, sources said. Ahuja, as ED's Assistant Director, was handling the case from the beginning, when the agency had registered its own case under the PMLA.
Demonising Modi won't help: Ramesh
He (Modi) talks in a language that connects him with the people… if you are going to demonise him all the time, you are not going to be able to confront him. — Jairam Ramesh, Cong Leader
DMK: CBI men scaling wall insult to India
I saw on TV the CBI officers scaling the walls (at Chidambaram's Delhi residence). I consider it as an insult to India. It is condemnable.— MK Stalin, DMK Chief
ED grills Raj Thackeray for over 8 hrs
Mumbai: Maharashtra Navnirman Sena chief Raj Thackeray was grilled by the Enforcement Directorate (ED) in a money-laundering case for over 8 hours on Thursday. Thackeray, who reached the ED office at 11.25 am and walked out at 8.15 pm, did not respond to queries from waiting mediapersons. There was no word from ED officials on whether he would be called again for questioning. TNS/PTI
Top Stories
After bhoomi pujan in Ayodhya, Bhagwat says have fulfilled r...