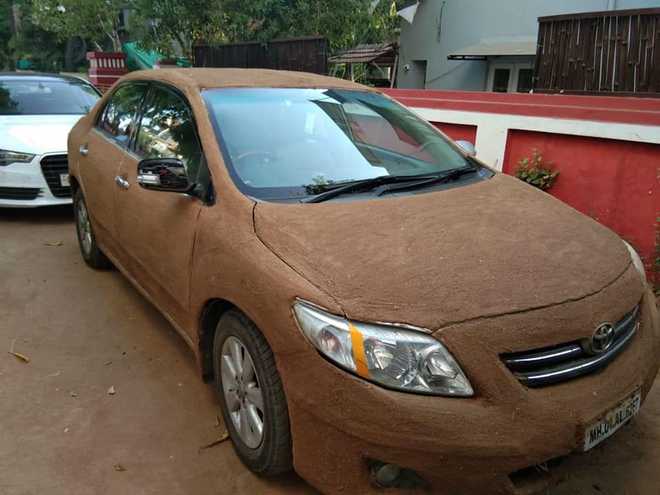 Tribune Web Desk
Chandigarh, May 21
As the country is gripped with extremely hot weather, a car owner in Ahmedabad has reportedly come up with a unique idea to beat the heat by covering his sedan with a layer of cow dung. It led to intrigue and disbelief on social media as people were left baffled if it was true and the hack actually worked.
Photos of the car quickly went viral after a Facebook user named Rupesh Gauranga Das shared the images and wrote, "Best use of cow dung I have ever seen."
He said they photos were taken in Ahmedabad, and added, "To counter 45 degrees heat temperatures and protect car from getting hot Mrs. Sejal shah has plastered her car with cow dung. Getting cool."
The post generated a lot of curiosity with many users asking how they would deal with the odour from cow dung while some wanted to know if it really worked and how much coating of cow dung one needs to apply.
Traditionally, in rural India, there is a common practice of applying cow dung on floors and walls allowing it to dry, as it is believed that coating it makes the structure remain warm in winters and cold in summers. Also, as it is a regarded as a natural disinfectant and mosquito repellent, the practice is quite common in villages.