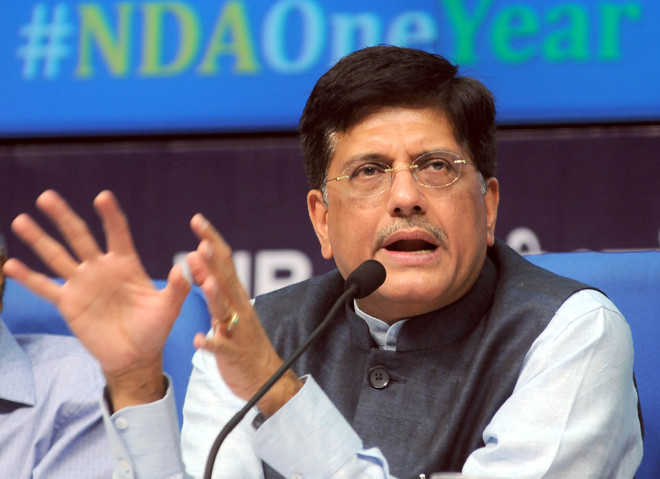 Tribune News Service
New Delhi, October 9
With the Congress maintaining pace against the BJP and its president Amit Shah on "business dealings" of his son Jay Amit Shah, the saffron party launched top Union minister Piyush Goyal to lead the counter for second day in a row.
Notably, Additional Solicitor General Tushar Mehta will represent Jay Amit Shah in the Rs 100 crore criminal defamation case against the news portal.
The BJP also defended this, saying that in a case between two private parties a government lawyer can take permission and appear. Mehta had sought Law Minister Ravi Shankar Prasad's permission to appear for Jay and the approval was granted, Goyal said.
On the Congress' attack that the government was in the know of the entire episode as the ASG was given permission even before the news appeared, Goyal said they were aware of the matter as the news portal had sent Jay a questionnaire.
"We believe that he (Jay) has been wronged and he must get justice. There is no harm if the best of lawyers appear for him. An ASG can appear in a matter between two private parties after taking permission," he said.
Notably, while the BJP is dismissing all charges against the son of its top party leader as "false, baseless, motivated and malicious", the fact is in politics, perceptions matter and more so when crucial Gujarat elections are on the anvil. There are also speculations that Shah was forced to cut short his Kerala trip because of the issue.
On why a top Union minister was defending Jay Shah, party leaders say photographs of BJP who's who (Amit Shah, Prime Minister Narendra Modi, Goyal) have been used as an "innuendo" by the portal and the party was well within its rights to counter the "malicious" attempts.
Goyal, who more or less conducted a rerun of his yesterday's media briefing, said "all loans taken by Jay Amit Shah were in accordance with law and commercial rates of interest".
He also said revenues clocked by his commodity-trading firm, about Rs 80 crore, were not "abnormally high" for that business.
Notably, Jay Amit Shah's firm had also been granted a loan of Rs 10.35 crore from the Indian Renewable Energy Development Agency Limited — a public sector firm under the Ministry of New and Renewable Energy — which was under Goyal.
As per the minister, around 2,000 persons have been granted loans by IREDA in the past one year or so. "It is legitimate business he (Jay Amit Shah) ventured into. A perception is sought to be created. It will be a disincentive to the people trying to do honest business," Goyal said.
Citing the example of former president Nitin Gadkari, the Congress today asked Prime Minister Modi to remove Amit Shah as BJP president and demanded a probe into the claims that a firm owned by his son saw a huge rise in turnover after the party came to power in 2014. Also asking the PM to break his silence, Congress leaders also wondered whether Goyal was a minister, a "spokesperson or business manager".