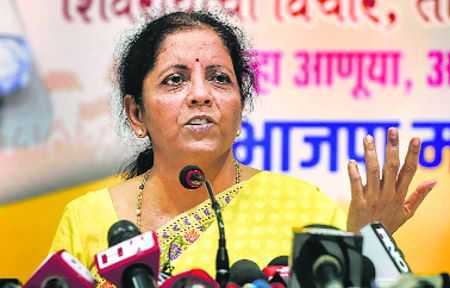 Mumbai, October 10
Finance Minister Nirmala Sitharaman, who faced angry depositors of scam-hit PMC Bank here today, announced setting up of a panel to recommend legislative changes to ensure better governance of cooperative banks.
If necessary, the government would amend laws governing cooperative banks in the winter session of Parliament, she said at a press meet. After a Rs 4,500-crore scam came to light at Punjab & Maharashtra Cooperative Bank, the RBI, which put curbs on withdrawal of funds, had also said it would examine if the regulatory framework needed to be tweaked.
Sitharaman said a committee of secretaries of Economic Affairs and Financial Services, Rural Affairs and Urban Development ministries and a Deputy Governor of the RBI would be formed. Through this committee, the government intended to "understand and take necessary legislative steps to prevent such things from happening in the future, empower the regulator better", she said.
Irate depositors gathered outside the BJP's office in south Mumbai ahead of Sitharaman's press conference. When she arrived, they raised slogans, demanding their money be returned. Sitharaman and a few depositors went inside and had a brief interaction.
Sitharaman, meanwhile, blamed the RBI for the crisis. "The RBI is the regulator which looks into the functioning of all banks... I explained to them how multi-state cooperative banks function," Sitharaman was quoted as telling some of the depositors. — TNS/PTI
Seized of matter
The RBI is the regulator which looks into the functioning of all banks… We will look for ways in which respective Acts will have to be amended. Nirmala Sitharaman, FM
Top Stories