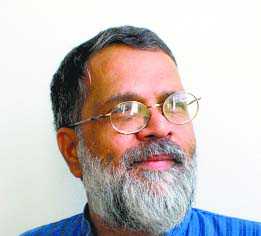 Amit Sengupta
Just about two weeks ago, I called up Praful Bidwai and invited him over for dinner. He said he was stressed out with the last phase of his book on the challenges before the Indian Left and desperately needed a break. This meeting was an occasion to enter the vast repertoire of his knowledge system on the history of the Left and contemporary politics, in India and across the world, including the trade union movement in Bombay in which he played a crucial role during his younger days.
Only a few know that Praful has authored and edited rigorous volumes on the labour movement in India. His knowledge kaleidoscope was large and luminescent, and he combined the academic and scientific rigour of his IIT Bombay days, from where he dropped out, with the open-ended, critical research and journalistic forays into society and politics.
His last published book was a masterpiece on a complicated and specialised area, and no one but Praful alone could work with such relentless dedication and rigour: The Politics of Climate Change and the Global Crisis: Mortgaging our Future, published by Orient BlackSwan. I helped in typing a chapter on one of his ancient, dilapidated desk-top computers, and the meticulous labour which had gone in writing, re-writing and corrections, in long-hand, was obvious. "We have to see the big picture," he would say. To combat the dangerous future scenario of war, climate change, militarism, unbridled consumption and accumulation of the affluent society, mass poverty and injustice, and fascism, we need a non-sectarian and magnificent coalition of all civil society groups, peace fighters, the united Left, feminist, socialist and ecological movements. A new politics of hope."
He had returned from Agartala after doing an extensive interview with Tripura Chief Minister Manik Sarkar and was all praise for this honest communist who has led the CPM to several successive victories in Tripura. Why don't they showcase Sarkar as a symbol of integrity and exemplary leadership? he asked. And yet, he thought, it would be nice if Sarkar could get out of the limited official Left mindset and exercise a bigger leap of imagination, especially during these "Rightwing fascist times". So why is the Left inevitably stuck in a rat trap, he asked, when they should be on the streets?
Praful would know. He always had an open channel with the top leadership of the Left. He was planning to use the mythical metaphor of the 'Pheonix' as a moment of resurrection and life-affirmation as the title of his new book on the Left. He had finished most of the chapters. I used to often tell him to write a short and slim volume like the brilliant, 'An Essay on Liberation' by Herbert Marcuse. He would find that tempting. With him gone, that essay will never arrive now, but, surely, Praful Bidwai's brilliant and life-long narrative on human liberation will continue to live and inspire.
(The writer is Associate Professor, English Journalism, Indian Institute of Mass Communication, New Delhi)