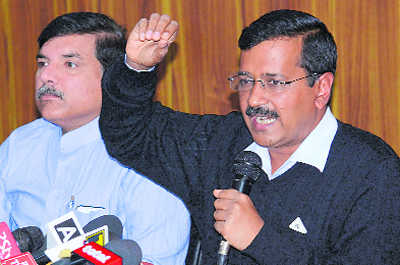 Ananya Panda
Tribune News Service
New Delhi, March 15
Delhi CM and Aam Aadmi Party (AAP) convener Arvind Kejriwal today alleged that the elections in Punjab were rigged and that 25-30 per cent of AAP's votes may have been 'transferred' to the SAD-BJP alliance. He claimed the Centre could have "masterminded" the election results in Uttar Pradesh and Uttarakhand as well by "tampering with" the electronic voting machines (EVMs), a charge also made by BSP chief Mayawati a day after the results.
Kejriwal demanded that the VVPAT (Voter-Verified Paper Audit Trail) slips must be counted and the figures matched with those of the EVMs in Punjab and other states where this provision was available.
Addressing a press conference here, he said: "The Punjab results are shocking I accept the defeat .... Many said there was a feeling of anger against the Akalis and that AAP was sweeping the polls. Yet AAP and its ally Lok Insaaf Party together got a vote share of about 25 per cent and the SAD-BJP of 31 per cent. How is this possible?"
Kejriwal claimed the sole intention of the BJP and its ally was not to let AAP come to power in Punjab. "As a SAD victory would have made this obvious, so the Congress won." He pointed out that in Malwa, where AAP was a frontrunner, the party had fared dismally. He claimed at several polling booths, the votes received by AAP were less than the number of party volunteers, indicating "foul play."
"In Sujanpur constituency's Akhwana village (booth no. 73), we got just three votes. Our party volunteers there were seven with 17 family members. Similarly. in Gosainpur (booth no. 103), where we had five volunteers, we got two votes. In Sri Hargobindpur's (booth no. 203) Thana village, we got one vote even though we had five volunteers. In Khemkaran, where we had nine volunteers, we polled five votes. All these figures raise serious doubts if 25-30 per cent of AAP votes were shifted to the SAD-BJP alliance, which was expected to poll 5-6 per cent votes. These doubts cannot be brushed under the carpet," Kejriwal, who would be writing to the Election Commission in a day or two, said.
The Delhi CM said the EC should consider counting VVPAT slips to restore the people's the faith in the electoral process, while referring to the Supreme Court observation that EVMs were "vulnerable."