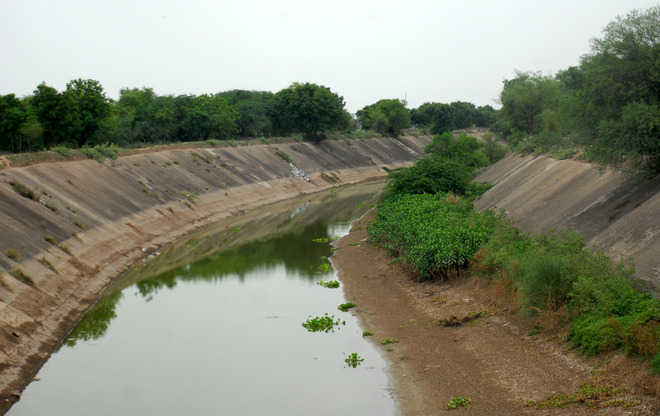 R Sedhuraman
Legal Correspondent
New Delhi, April 8
Punjab today pleaded in the Supreme Court that the only way to resolve its disputes with Haryana and other states over the sharing of Ravi and Beas waters was to set up a fresh tribunal to go into all aspects, including the riparian rights and the dwindling flow.
Arguing before a Constitution Bench, Punjab's senior counsel Ram Jethmalani also pleaded that the SC should refuse to answer the Presidential Reference on the validity of the Punjab Termination of Agreements (PTA) 2004 as the apex court was not bound to go into it.
Though a Presidential reference, "it had been done at the instance of the Centre which had no power to decide the water dispute". The reference, he said, had been made under Article 143(1) that clearly stated that the SC "may" answer it. This was quite contrary to references made under Article 143(2) that "shall" be answerable by the SC. A seven-judge Bench of the SC had said the apex court was not bound to entertain issues even under sub-clause 2, he said. Punjab sought a new tribunal way back in 2003, about 18 months prior to resorting to the 2004 law. The state renewed the plea in 2015 by filing a suit in the SC which was pending, he said.
Today, Rajasthan's senior counsel CS Vaidhyanathan pleaded that Punjab had no right to enact the 2004 law terminating its water-sharing agreements with Rajasthan, HP, Delhi and J&K. India signed the Indus Water Treaty with Pakistan, mainly citing the water requirements of desert state Rajasthan, he said.
Rejecting Rajasthan's contention, Jethmalani said the Punjab Assembly had every right to enact the 2004 law, though it was not binding on other states. Under the Inter-State Water Disputes Act, every agreement would have to be reviewed periodically taking into consideration the changed circumstances.
He took exception to Haryana's demand, contending that after its creation in 1966, it had become a riparian state of Yamuna and was getting its share. At the same time, it had lost its riparian rights after it was carved out of Punjab. Further, the 1981 pact was based on 1921-45 statistics on the flow of water in the Ravi and Beas when it was estimated at 17.1 million acres feet (MAF). This had now gone down by 18% to 13.36 MAF.