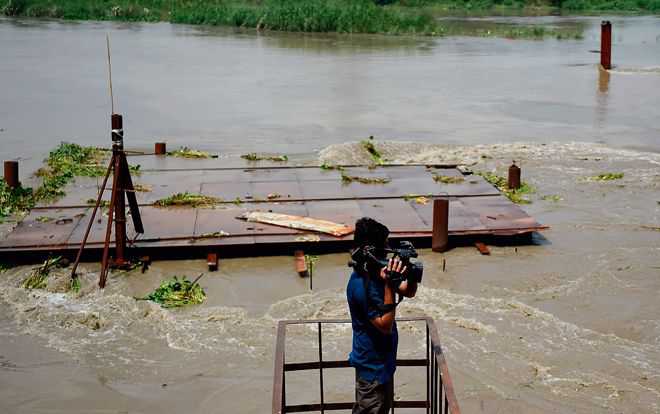 Vibha Sharma
Tribune News Service
New Delhi, August 19
As water from Indian rivers flows into Pakistan and floods wreak havoc in the plains, the authorities managing dams and Punjab and Haryana governments are being criticised over their "lack of synergy and planning to deal with the surplus".
"On one side, Prime Minister Narendra Modi speaks of water conservation and on the other, precious water from Indian rivers is being allowed to flow into Pakistan — not just now (during intense rain), but at the peak of summer. Why were billions of litres released from Bhakra, Pong and Ranjit Sagar reservoirs this summer, much of which went to Pakistan and against the proclamations of the government," said Himanshu Thakkar of the South Asia Network on Dams, Rivers and People.
Releasing the excess water may have been a necessity now, but the question is why Punjab and Haryana do not have plans and infrastructure facilities in place to use the surplus to recharge sinking groundwater levels in the region. "It is the government's job to create recharge facilities, what have they done so far," he wonders. Had some of surplus water gone towards recharge, damage due to floods could have been reduced in Punjab, he said.
Besides, as the struggling Yamuna flows 'aviral' and 'nirmal', it seems soil carbon depletion, encroachment and deforestation in catchment areas are hindering water seepage. Environmentalists say floodplains and river basins should be farmed only when "not under water and in an organic way. Floodplains are not meant for habitation…If you invade these, you should be prepared for consequences. You cannot blame the river or nature for your misery".