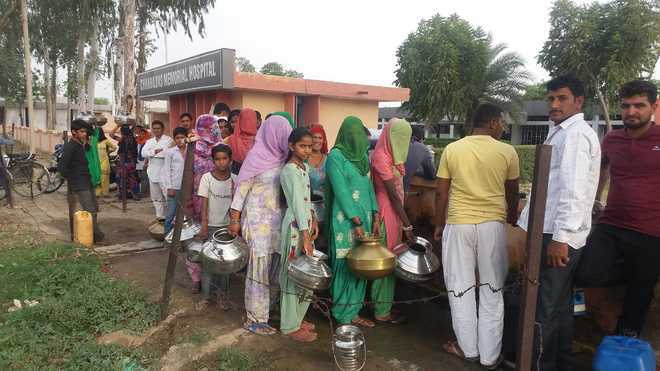 Tribune News Service
Chandigarh, April 18
Rajasthan is in the grip of a water crisis with 19 out of the 33 districts being affected by drought. This has prompted the state government to send trains carrying water to parched Bhilwara and tankers to other areas facing acute shortage.
If the situation in Rajasthan is bad, in parts of Haryana, it is worse. So much so that many crisis-ridden villages in Ellenabad area of Sirsa are meeting their daily requirement of drinking water from Rajasthan. Villagers from Karamsana in Ellenabad say they have been purchasing water from a neighbouring Rajasthan village for Rs 400 per tanker.
Residents of Mithanpura, Khari Surera and Chilkani Dhab have been witnessing a similar situation. Fatehabad villages, too, are reeling from water scarcity.
KK Verma, Superintending Engineer with the Public Health Engineering Department in Sirsa, says the Bhakra canal system was closed for a few days for cleaning purpose, but as far as these villages are concerned, rarely reached there as per the requirement as they fall on the tail-end.
While the Mewat region has again been facing water woes, reports from Bhiwani and Hisar pointed to an acute shortage of drinking and irrigation water.
Owing to years of water scarcity, farmers of Umravat village in Bhiwani have started selling off their land. "I had to sell off my 2 acres three years ago as the land had turned barren and now I work in a local factory as a labourer for a meagre salary of Rs 5,000," said Shambu Kaushik.
Dayanand Poonia, Kisan Sabha state secretary, said the situation was worrisome in 19 villages under Siwani Mandi block of the district as farmers were left with no grain to eat. SK Tyagi, XEN, said water would be received from the canal as scheduled on April 22.
In Roshankhera village of Hisar, residents said the area had turned unfit for human survival, forcing migration to the adjoining towns of Hansi and Hisar.
In adjoining Kinnar village, the potable water tanks in the waterworks have gone dry several days ago.
SE Angad Singh said the shortage occurred due to closure of Bhakra Main line canal, which supplied water to Hisar and adjoining districts. "The repair and desilting has been done and water is likely to reach Hisar by tomorrow," he said.