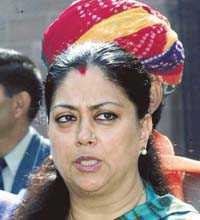 New Delhi/Jaipur, June 26
An affidavit filed by beleaguered Rajasthan Chief Minister Vasundhara Raje shows she was the beneficiary of investments of more than Rs 11 crore made by former IPL commissioner Lalit Modi in her son's company at a high premium.
(Also read: Raj BJP comes out in support of Raje)
An affidavit filed by Raje before the Election Commission showed that she had 3,280 shares in Niyant Heritage Hotels, owned by her son, MP Dushyant Singh.
Modi had invested over Rs 11 crore in this company at a huge premium of over Rs 96,000 per share of Rs 10.
The disclosure has once again begun given rise to allegations that Raje had benefitted from Modi's controversial investments: charges promptly rebutted by Rajasthan BJP president Ashok Parnami, who claimed they were her sons and daughter-in law's gifted to her.
"Dushyant and his wife (Niharika) had gifted 1,615 and 1,665 shares, respectively, to her on her birthday," said Parnami.
Finance Minister Arun Jaitley met Prime Minister Narendra Modi even as Opposition's voices continued its frenzied cries for Raje's dismissal. He is understood to have discussed various aspects of the raging controversy, including the legal implications and the political fallout.
Jaitley, who claimed on Thursday that "nobody" was "tainted", later met BJP President Amit Shah to deliberate the party's strategy to brave the massive storm involving Lait Modi and two of the party's prominent leaders —External Affairs Minister Sushma Swaraj and Raje.
Well-placed sources in the BJP claim there was much ignorance regarding the episode concerning Modi's investments in Dushyant's company.
"The company had taken a loan of Rs 4 crore in 2009 by cheque and another loan of Rs 7.5 crore in 2010. There is nothing wrong with this, and the value of shares was not inflated but was actually deflated," they said.
BJP, Cong spar over Lalit Modi tweets
On the back foot in the row over its leaders' purported help to Lalit Modi, the BJP today alleged links between the former IPL boss and the Gandhi family as it pointed to claims by him of "running into" Priyanka Gandhi in London.
The BJP, which charged that it was these links which had "prevented" Modi's extradition under the UPA rule, demanded that Congress president Sonia Gandhi make a statement on the matter.
That invited a sharp attack from the Opposition, which said that Lalit Modi's tweets were a case of "chhota Modi" helping "bada Modi" (Prime Minister Narendra Modi) through "lies".
Seeking to turn the tables on the Congress, BJP spokesperson Sambit Patra said, "Today's big revelation is the fact that Lalit Modi had met the Gandhi family. Only yesterday he met Priyanka Gandhi and Robert Vadra. Why have they met him?
"Let me categorically put today that the issue is about Lalit Modi and Gandhi family... the BJP demands Sonia Gandhi make a statement why the Gandhi family has been in touch with Lalit Modi all these years."
Patra further claimed that then Finance Minister P Chidambaram "did not want Lalit Modi's extradition from Britain despite the fact that the UK was ready for extradition".
"Who was preventing them? The Gandhi family," he alleged.
"The matter starts and ends at the door of 10, Janpath."
But lashing out at the BJP over the charges, the Congress said running into anybody in a restaurant was not a crime and that Lalit Modi was working at the behest of the BJP to divert attention to "non-issues".
Congress's chief spokesperson Randeep Surjewala said the BJP should tell its "black money stooges to not rely on red-herrings" to divert attention from the issue.
The government must answer to the people about the allegations against External Affairs Minister Sushma Swaraj and Rajasthan Chief Minister Vasundhara Raje, he added.
"I can say with full responsibility that neither Priyanka Gandhi nor Robert Vadra ever interacted with Lalit Modi socially. If you see somebody in a restaurant, it is not a crime. 'Chhota Modi' is helping 'bada Modi' with lies.
"It is a diversionary tactic of the BJP to turn the attention towards non-issues. The government should speak about real issues and not hide behind Lalit Modi," Surjewala told reporters.
Lalit Modi had last night tweeted, "Happy to meet the Gandhi family... in London. I had run into Robert and Priyanka separately".
Reiterating his party's demand for the sacking of Swaraj and Raje, Surjewala said they had helped a fugitive accused of "fraud of gigantic proportions".
Union Minister Gowda trains guns on Lalit Modi
Amidst the Lalit Modi controversy, Union Law Minister DV Sadananda Gowda today trained guns on the former IPL Commissioner for creating confusion by levelling 'baseless charges' to rescue himself.
"Today Lalit Modi has dropped names of Priyanka Gandhi and Robert Vadra. Tomorrow he may name somebody. Day after tomorrow he may name the owner of the channel which is telecasting everything.
"So, he wants to create some confusion, so that somewhere the cases against him are dropped, and somewhere some political activity should go on… so that he can rescue himself from the clutches of law," Gowda told PTI in Bengaluru.
Raje again rubbishes reports
Facing the Opposition heat over the Lalit Modi controversy, beleaguered Rajasthan Chief Minister Vasundhara Raje for the second day today dismissed media reports surrounding her, including that of a signature campaign by 120 party MLAs in her support.
In a statement, a CMO spokesman said the Chief Minister holds "jansunwai" (public hearing) at her residence every Friday, and for this many MLAs come with the public of their constituency for putting forward their problems and demands.
"Similarly today, the CM is holding public hearing in which MLAs and party workers are meeting", the spokesman said.
"The news of signature by 120 MLAs (in her support) is completely wrong. It is not fair to link public hearing with a different view", he said.
The CMO said the Chief Minister never asked or made any call to MLAs to show their strength and support.
This is the second day that her office has rubbished media reports surrounding her. — PTI