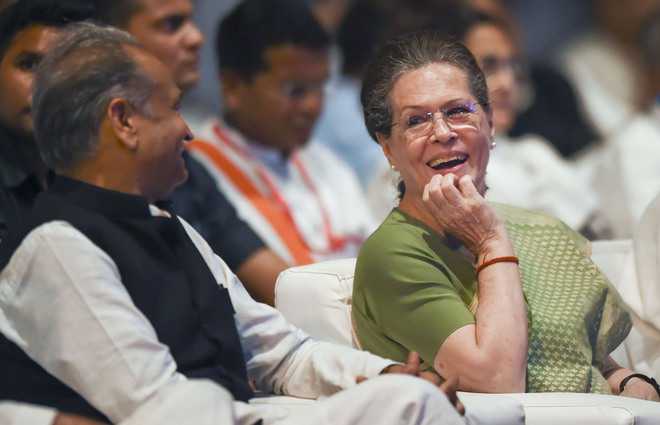 Tribune News Service
New Delhi, August 22
Speaking for the first time since she assumed the Congress presidency from son Rahul, Sonia Gandhi today took a veiled jibe at the ruling BJP, saying her late husband and former PM Rajiv Gandhi secured a landslide victory in 1984, but never used his win to threaten people or spawn fear.
Sonia's remarks came on the day when a CBI court granted four-day police custody of Congress veteran and former minister P Chidambaram in connection with the INX Media case. Sonia was addressing a national-level event here to mark the 75th birth anniversary of Rajiv Gandhi.
The Congress has accused the NDA government of using the CBI and ED as "personal revenge seeking tools". Congress media head Randeep Surjewala described Chidambaram's arrest as "political vendetta by the BJP".
Taking the first occasion to attack Prime Minister Narendra Modi without naming him over developments around P Chidambaram, Sonia Gandhi said, "In 1984, he (Rajiv Gandhi) won an unprecedented mandate, but did not use that to scare people."
"The present generation should know that even though Rajiv Gandhi was the leader of the biggest political party then, he never staked claim to power," she said in the presence of all chief ministers of the Congress-ruled states, barring Punjab's Amarinder Singh, who could not come on account of the flood situation in Punjab. Also present were top Congress leaders, like ex-PM Manmohan Singh, Rahul Gandhi, Ahmed Patel, Ghulam Nabi Azad, Mallikarjun Kharge, Priyanka Gandh, Asha Kumari and Punjab Finance Minister Manpreet Badal among others.
The longest-serving party chief, who has been called upon to discharge a tough task, also acknowledged the scale of challenges the Congress faces.
Warring's 'we want Rahul' call draws applause
Former Youth Congress chief and Gidderbaha MLA Amrinder Raja Warring's call to former party chief Rahul Gandhi to return to the helm of affairs drew a thunderous applause, led by Sonia Gandhi. "Rahul ji will not like it, but I have to say that the country needs him," Warring said.