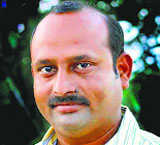 Shiv Kumar
Tribune News Service
Mumbai, August 20
The Shiv Sena has washed its hands of Shrikant Pangarkar, its former corporator in the Jalna Municipal Council, who was arrested on Sunday for his links with a suspect held in connection with the murder of rationalist Narendra Dabholkar in 2013.
According to party leaders, Pangarkar left the organisation after being denied a ticket for the municipal council elections that year. He had been an elected representative in the Jalna civic body for 10 years till then.
Maharashtra's Minister for Dairy Development Arjun Khotkar, who belongs to the Shiv Sena, said Pangarkar had left the party and had been actively working for the Sanatan Sanstha. However, Khotkar has left a lot of red faces in the Shiv Sena with his statement that many members of the Shiv Sena were still in contact with Pangarkar.
Pangarkar had reportedly been travelling to different places in Maharashtra, Goa and Karnataka where the Sanstha had put down roots. He was arrested by the Anti-Terror Squad (ATS) of the Maharashtra police after Sachin Prakashrao Andure, accused of gunning down Dabholkar, allegedly named Pangarkar as the man who rode pillion with him when he shot the rationalist while he was out for his morning walk. Pangarkar was remanded in the ATS custody till August 28 by a Mumbai court today.
Pangarkar is also accused of providing funds to Vaibhav Raut, Sharad Kalaskar and Sudhanwa Gondhalekar, who were arrested after the seizure of country-made guns and explosives. The weapons were stored in the home and office of Raut, who allegedly operated a real estate brokerage as front, according to the police.
---
Planning Eid attacks?
Police said Shrikant Pangarkar, arrested in Dabholkar case, had obtained some knowledge about assembling explosives
He was planning to set off crude bombs at different places in Maharashtra, the police said
Some of the suspects arrested in the case confessed to planning attacks during Eid, falling later this week
Security has already been beefed up at several mosques in Mumbai and Pune

---
'Real killers spared'
Congress leader Prithviraj Chavan said 'real masterminds' behind killing of Narendra Dabholkar and three other prominent persons were being protected and some people were being made scapegoats and named as conspirators
He said in 2011, when he was the CM, he had sought a ban on right-wing body Sanatan Sanstha as it was a 'divisive and violent' outfit that has been linked to the killings of rationalists and scholars
Top News
The counting of votes will take place on December 7
In his speech at IFFI-2022, Lapid had said he was 'disturbed...
The seized drugs are the spurious versions of leading brands...
The follow-up programme of Bharat Jodo Yatra will have yatra...
Discuss Russia-Ukraine war, highlight emerging security chal...