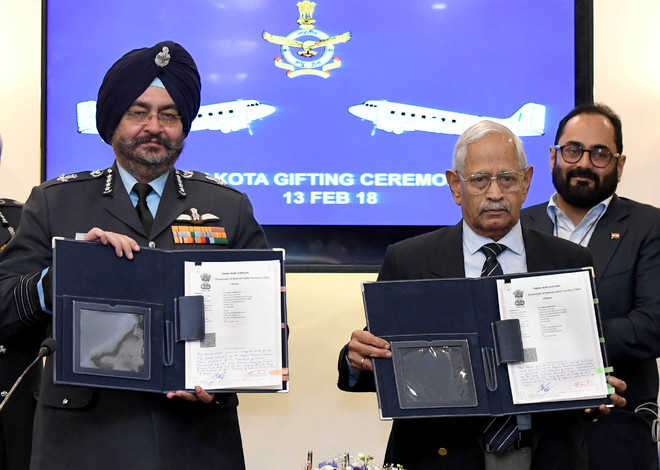 New Delhi, February 13
A refurbished World War II-era Dakota is set to be flown to India next month, to become a proud possession of the Indian Air Force.
The plane, which underwent a six-year-long restoration in the UK, will join the vintage fleet at the Hindon air base in Uttar Pradesh.
The aircraft is a gift from Rajya Sabha MP Rajeev Chandrasekhar to the IAF, and at a function here today, the Bengaluru lawmaker ceremonially handed over the papers and deeds to Air Chief Marshal BS Dhanoa.
The Chief of Air Staff said, "They (the aircraft) were introduced in the 1930s. As part of the 12th Squadron of the then Royal Indian Air Force (RIAF), Dakotas were the main workhorse in Ladakh and North-East region. And, they intervened in time to save the valley of Kashmir (in 1947)."
"Military historian Pushpindar Singh had said that Dakota is the reason why Poonch is still with us. They helped in hastening the fall of Dhaka and liberation of Bangladesh," Dhanoa said.
Douglas DC3 aircraft, better known as the Dakota, carried the troops of the Army's 1 Sikh Regiment to Srinagar on October 27, 1947, during the first Indo-Pak war, besides carrying supplies and refugees.
The Dakota, christened 'Parashurama', will bear tail number VP 905, the same as the first such aircraft in the Indian service that transported the troops during the 1947 war to Jammu and Kashmir.
Chandrasekhar's gift will make it the first vintage Dakota for the IAF, which currently has a Tiger Moth and a Harvard aircraft stationed at the Hindon air base. The Dakota is currently kept at Coventry airfield in the UK. It is set to fly next month. Chandrasekhar's father Air Commodore MK Chandrasekhar (retd), who was present at the function, was a Dakota pilot in the IAF. — PTI