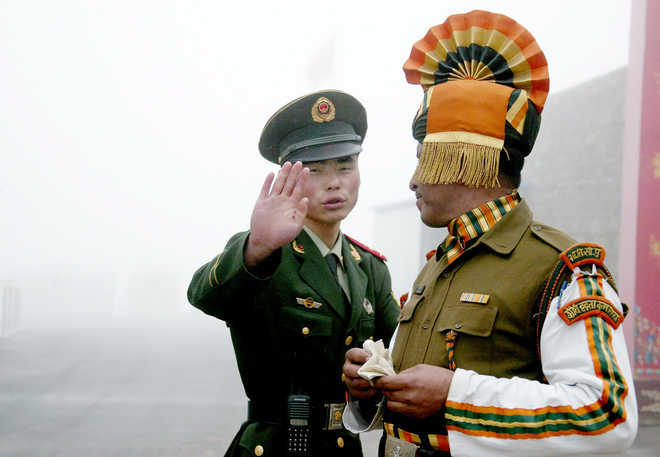 Beijing, July 20
The Sino-Indian border row is an offshoot of rising Hindu nationalism in India which has hijacked New Delhi's China policy and can lead to war between both countries, a Chinese daily warned on Thursday.
(Follow The Tribune on Facebook; and Twitter @thetribunechd)
"Nationalist fervour that demands revenge against China has taken root in India since the border war. The election of Indian Prime Minister Narendra Modi has fuelled the country's nationalist sentiments," said a commentary by the Global Times.
"In diplomacy, New Delhi is demanded to act tougher in foreign relations, especially toward countries like Pakistan and China. The border row this time is an action targeted at China that caters to the demand of India's religious nationalists," the article by Yu Ning said.
Chinese and Indian armies have been engaged in a stand-off that began more than a month ago at Doklam in the Sikkim section of the winding Sino-Indian border. This covers the trijunction of India, Bhutan and China.
"The Modi government can do nothing if religious nationalism becomes extreme, as shown in its failure to curb violent incidents against Muslims since he came to power in 2014," said the commentary.
"India is weaker than China in terms of national strength but its strategists and politicians have shown no wisdom in preventing India's China policy from being kidnapped by rising nationalism.
"This will put India's own interests in jeopardy. India should be careful and not let religious nationalism push the two countries into war.
"Since India's defeat in the Sino-Indian War of 1962, some Indians have been stuck in a zero-sum mentality in dealing with China.
"The war inflicted lingering pain on India and it became a hard knot to untie, leading to an ingrained suspicion of Chinese strategy.
"China's development is seen as a misfortune to India. The faster China grows, the more fearful they are," the commentary said. — IANS