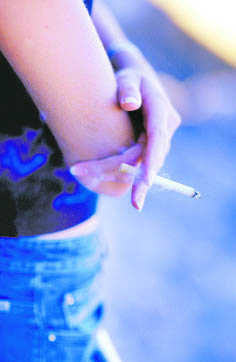 Aditi Tandon
Tribune News Service
New Delhi, January 18
In a little-known consequence of the new Juvenile Justice Act, people selling harmful substances, including drugs, tobacco and liquor, to children can now face rigorous jail term up to seven years.
Not only that, they would also be liable to pay a fine of up to Rs 1 lakh, 500 times more than the current penalty of Rs 200 (as per the Cigarettes and Other Tobacco Products Act, 2003). Though the previous version of the Act (now subsumed by the new law) also recognised the harmful effects of tobacco and the tobacco industry's design to target youngsters, the new law makes a path-breaking amendment to the related section.
Section 77 of the new Juvenile Justice Care and Protection of Children Bill, 2015, says, "It is an offence against a child if a person gives or causes to be given to any child any intoxicating liquor or any narcotic drug or tobacco products or psychotropic substance, except on the order of a duly qualified medical practitioner; shall be punishable with rigorous imprisonment for a term which may extend up to seven years and shall also be liable to a fine which may extend up to one lakh rupees."
Speaking to The Tribune, Dr Pankaj Chaturvedi, professor and surgeon at Tata Memorial Hospital, said, "The Cigarette and Other Tobacco Products Act, 2003, miserably failed to check the sale of tobacco to minors because the fine imposed was only Rs 200."
At present, 27.5 crore Indians use tobacco and most of them started off in childhood. The Global Adult Tobacco Survey for India says the average age of initiation of tobacco consumption in India is 17 years. Global Youth Tobacco Survey India adds that up to 20 per cent children in India are tobacco users. The new law, as such, would blunt the tobacco industry's "catch them young" motto.
Sanjay Seth, chief operating officer of Voice of Tobacco Victims Campaign, says, "In India, most points of sale don't even exhibit the notice that sale of tobacco to children is not allowed. Meagre fines for violations are no deterrent. The new law is welcome."
Tobacco is a major contributor in six to eight leading causes of death and almost 40 per cent of non-communicable diseases, including cancers, cardio-vascular diseases and lung disorders. Conservative estimates of tobacco-attributable deaths in India are about 10 lakh a year. Of the dead, about 70 per cent will be lost during the productive periods of their lives — between the age of 30 and 69 years, says leading researcher Prabhat Jha in a study.
Another Indian Council of Medical Research study shows 50 per cent of cancers in males and 20 per cent in females can be attributed to tobacco use.