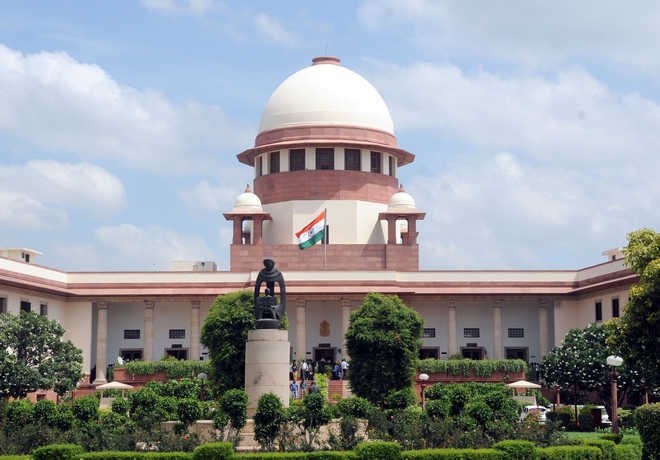 Satya Prakash
Tribune News Service
New Delhi, November 24
Three days before the scheduled appearance of Akhila, alias Hadia, who is at the centre of a 'love jihad' storm in Kerala, the Supreme Court on Friday agreed to hear a petition filed by the mother of another Hindu girl seeking an NIA probe into Islamic radicalisation in the state.
Petitioner Bindu Sampath – whose daughter Nimisha, alias Fathima, has been taken to Afghanistan to join the ISIS – said incidents of 'love jihad' needed to be probed.
"The phenomenon has wreaked havoc in the lives of many young, hapless girls, including the petitioner's daughter, and poses a grave threat to national security," she submitted.
Petitioner's counsel Aishwarya Bhati told a Bench headed by Chief Justice of India Dipak Misra that dental college student Nimisha was coerced, manipulated and brainwashed by the idea of jihad and taken to Afghanistan, where she is believed to be in Khorasan province with the ISIS.
The Bench, which has already ordered a probe by National Investigation Agency (NIA) into Akhila's case, agreed to take up the fresh petition after two weeks.
Akhila is to appear before a Bench of CJI Misra, Justice AM Khanwilkar and Justice DY Chandrachud on November 27 for an interaction that would help the judges to ascertain if it was a case of indoctrination and sham conversion.
The top court had on October 30 asked the father of Akhila (24) who converted to Islam to present her in court on November 27 to ascertain her views on her marriage to a Muslim man, Shafin Jahan.
The marriage was annulled by the Kerala High Court and her custody was handed over to her parents, forcing Jahan to challenge it before the top court. He also wanted cancellation of the NIA probe into their marriage ordered by the top court in August.
The latest petition alleged it was not an isolated instance of entrapment and exploitation but one involving a motivated scheme of operation at a much larger scale as terrorist organisations such as ISIS were operating a well-oiled scheme.
"Young, impressionable and vulnerable girls and boys professing Hinduism, Sikhism, and Christianity are identified for conversion to Islam with the eventual motive to recruit them for practicing or propagating jihad," the petitioner submitted.