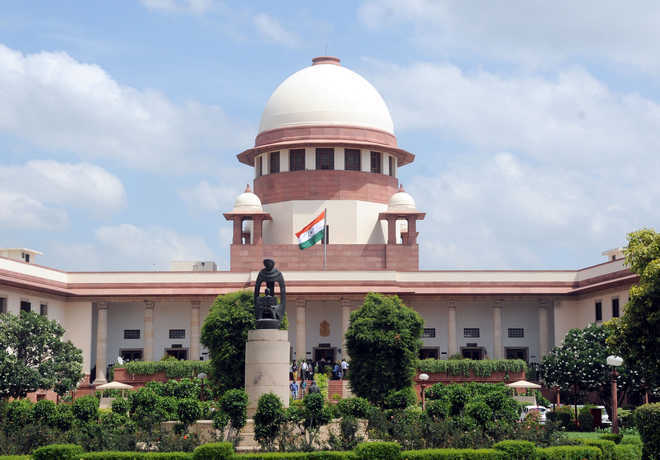 Satya Prakash
Tribune News Service
New Delhi, September 18
The Supreme Court is all set to create a history of sorts as it's going to have 34 judges for the first time since it came into being in 1950.
President Ram Nath Kovind on Wednesday signed warrants of appointment of four judges for their elevation to the top court.
Those being elevated to the Supreme Court are Punjab and Haryana High Court Chief Justice Krishna Murari, Himachal High Court Chief Justice V Ramasubramanian, Rajasthan HC Chief Justice S Ravindra Bhat and Kerala HC Chief Justice Hrishikesh Roy.
Their appointment will be effective from the day they take charge of their respective office, the Law Ministry said in four separate releases. The newly appointed Supreme Court judges are likely to oath by Monday, sources said. The Supreme Court collegium of Chief Justice of India Ranjan Gogoi, Justices SA Bobde, NV Ramana, Arun Mishra and Rohinton F Nariman — had last month approved the four names for elevation to the top court.
Justice Murari and Justice Ramasubramanian had taken over as CJ of Punjab and Haryana HC and Himachal Pradesh HC, respectively, in June, while Justice Bhat has been functioning as Rajasthan CJ since May this year. Justice Roy has been the CJ of Kerala HC for a year.
After these appointments are notified and the four judges take oath, the number of judges in the Supreme Court will for the first time reach 34, including the CJI.
The collegium recommendation follows passage of "The Supreme Court (Number of Judges) Amendment Bill, 2019" by Parliament earlier this month to increase the number of Supreme Court judges from 30 to 33, excluding the CJI, with a view to reduce pendency of cases which touched 59,696 on July 1, 2019. CJI Ranjan Gogoi had in June this year written to PM Narendra Modi seeking to increase the strength of judges.
Top Stories