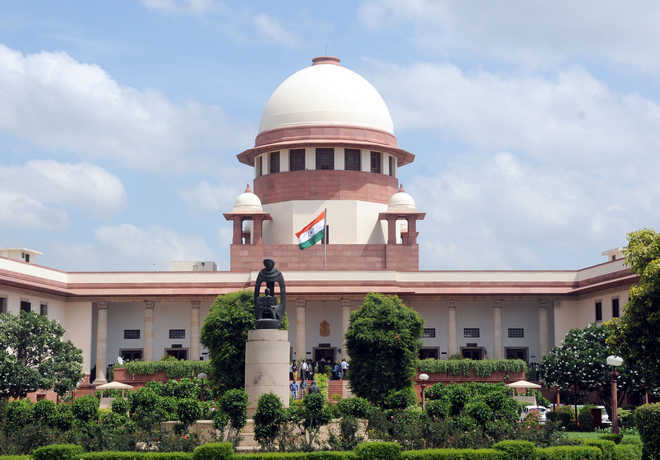 Satya Prakash
Tribune News Service
New Delhi, October 21
The Supreme Court on Monday paved the way for reconstruction of Sant Ravidas Temple in Tughlaqabad area of south Delhi, which was demolished by Delhi Development Authority on the court's order.
"Let there be peace," a Bench headed by Justice Arun Mishra said and ordered quashing of all criminal cases lodged against those who indulged in violence during agitation for rebuilding the temple.
Attorney General KK Venugopal said instead of 200 square metres, the Centre had decided to allot 400 square metres for the reconstruction.
The court asked the Centre to constitute a committee of devotees in six weeks to oversee the reconstruction.
The Bench made it clear that no commercial activity would be allowed over there as it was a designated forest area.
The Centre had on October 18 said it was willing to hand over 200-square-metre piece of land to a committee of devotees for construction of the temple.
Venugopal had said that he had talked to all the parties, including devotees and government officials, and the Centre had agreed to give the same piece of land considering sensitivity and faith of devotees. Five of the seven petitioners demanding reconstruction of the temple had agreed to the proposal, he said.
"The entire belief and faith of the devotees of Sant Ravidas is in the site where he stayed…In the interest of peace and harmony we want to return the site to the devotees for construction of the temple," Venugopal told the Bench.
The Bench had asked parties demanding reconstruction of the temple to submit objections, if any, by October 21, the next date of hearing.
A mystic poet-saint and one of the stalwarts of Bhakti movement, Guru Ravidas (1450-1520) has a large following, mostly dalits, in Delhi, Punjab, Haryana and Rajasthan. After the demolition of the temple situated in Tughlaqabad area of Delhi his followers had been protesting against it.
The Supreme Court had on October 4 asked those seeking permission to rebuild the temple in Tughlaqabad forest area to amicably find a better location for it.
Top Stories
After bhoomi pujan in Ayodhya, Bhagwat says have fulfilled r...