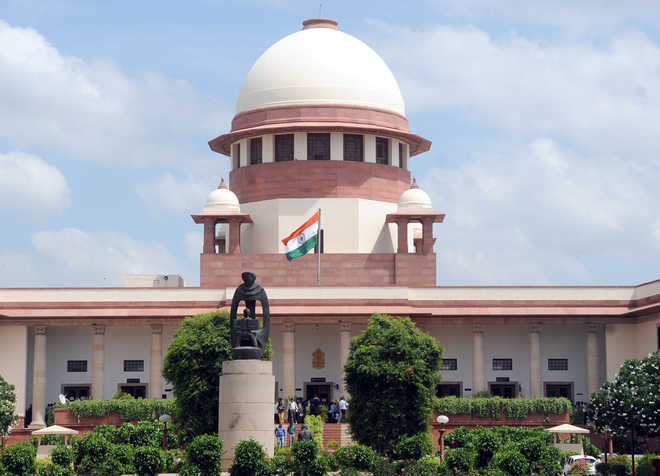 Satya Prakash
Tribune News Service
New Delhi, December 13
The Supreme Court on Wednesday relaxed its order banning use of pet coke and furnace oil in the National Capital Territory and allowed cement industry to use it as feedstock in Rajasthan, Haryana and Uttar Pradesh.
A bench headed by Justice Madan B Lokur – which had on October 24 banned use of pet coke and furnace oil in Haryana, Punjab and UP from November 1 to check deteriorating air pollution level – exempted lime industries from the purview of its order in respect of the use of pet coke.
It also asked the Ministry of Environment, Forest Affairs and Climate Change to frame guidelines to regulate the use of pet coke and consult all stakeholders on the issue of import of pet coke.
The order came on modification applications filed by Aluminum giant Hindalco, National Thermal Power Corporation and cement companies which contended they needed time to shift to alternative cleaner fuel.
The Environment Ministry had supported lifting the ban on furnace oil and pet coke for cement industry and thermal power plants on the ground that these were used in negligible quantities by the cement manufacturers and power plants for non-fuel purposes.
It took strong exception to governments of Uttar Pradesh, Haryana and Rajasthan sleeping like 'Kumbhakarna' and then blaming the top court for the order banning use of pet coke and furnace oil in NCR.
The bench had on November 17 asked all states and union territories to consider banning use of pet coke and furnace oil – known to be a major source of pollution. However, it had said for the present, it did not want to issue any direction to any other state and union territory.
Noting that pollution caused by pet coke and furnace oil was not a problem confined only to the NCR but a problem faced by almost all the States and union territories; the bench had said they all should consider banning it.
"We request all the State Governments and Union Territories to consider taking similar measures as have been taken by the Government of India and the Chairman of the Central Pollution Control Board under Section 5 of the Environment (Protection) Act, 1986," the bench had said.
The top court had on November 13 refused to lift or relax the ban imposed on industrial usage of pet coke and furnace oil in Haryana, Punjab and Uttar Pradesh.
Hearing a PIL by environment activist MC Mehta, the bench had clarified that its October 24 order was not limited to NCR districts and that it was applicable to entire state after being informed that the court-appointed Environment Pollution Control Authority (EPCA) had issued an order that the ban was only for industries located in the NCR.