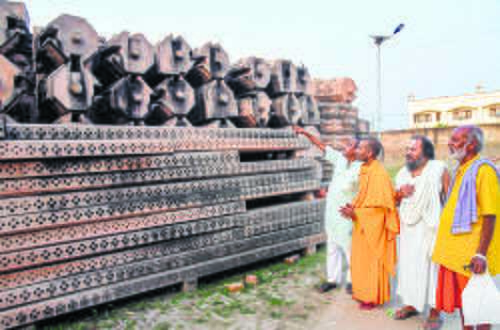 Tribune News Service
New Delhi, October 17
A day after the Supreme Court reserved verdict in the Ram Janmabhoomi-Babri Masjid dispute, the Uttar Pradesh Sunni Waqf Board on Thursday confirmed that it had submitted a proposal for amicable settlement of the vexed problem.
"The parties have reached a settlement before the mediation panel….I cannot divulge the details. Mediation is already done and over. Other parties, who did not seek it, must read the terms of the settlement and sign it. There is a chance of settlement," Sunni Waqf Board counsel Syed Shahid Rizvi told the media.
"It's in the interest of unity and integrity of India," he said. A Constitution Bench headed by Chief Justice of India – which reserved its verdict on 14 cross-appeals against the Allahabad High Court's September 30, 2010 judgment equally dividing the 2.77 acre disputed land between Ram Lalla, Nirmohi Akhara and Muslims – conducted in-chamber proceedings on Thursday to consider the settlement proposal.
The Bench is understood to have discussed the matter but details of what transpired could not be known.The UP Sunni Wakf Board is said to have agreed to give up its claim on the disputed site if Muslims' interests are protected. Board chairman Zafar Ahmad Farooqui is understood to have demanded that 22 dilapidated mosques be reconstructed by the government, sources said.
It has also demanded that Muslims be allowed to offer namaz in mosques under the control of the Archaeological Survey of India.
______________________________________________________
Win-win situation for everyone
Advocate Shahid Rizvi said some parties involved in Ayodhya title dispute had reached settlement, ensuring 'win, win' for both sides. He urged Ram Lalla Virajman & Nirmohi Akhara to 'join in'.
Ansari's son won't challenge verdict
Plaintiff Iqbal Ansari, whose father Hashim Ansari was the oldest litigant in the Babri case, said he would accept the SC decision. He said he was happy the case was reaching its logical end.