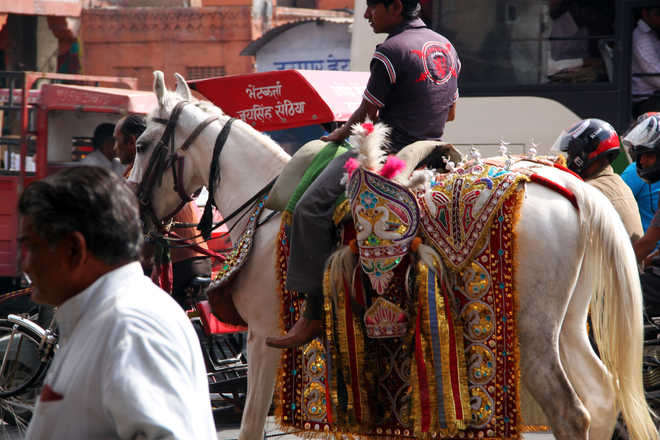 New Delhi, July 6
Three sick horses that were being used in wedding celebrations were rescued from outer Delhi's Nangloi area on Friday, police said.
The distressed horses, one of them wounded, were rescued with the help of animal rights group, People for the Ethical Treatment of Animals (PETA) India, and were shifted to a farm where they would be treated, they said.
"The three horses were very sick and being used in wedding celebrations. One of them also had some wounds. The owners have surrendered the horses to PETA. No FIR was filed since the owners have given the custody of the horses on consent," a senior police officer said.
PETA, however, claimed that one more horse was rescued.
PETA has been running a campaign to rescue horses that are used in wedding celebrations, a PETA official said, while alleging that they are "subjected to cruelty" in the name of goading them to perform for the event.
The seizures follow PETA India's complaints to the Delhi Police, which sought to crack down on the "rampant cruelty" meted out to horses, used for wedding and other ceremonial purposes, the PETA official claimed.
The animals used for such purposes are often found to be "sick, injured, and lame and that when they're not being forced to give rides or perform, they're typically kept in filthy conditions and tied up with ropes that are often so short that the animals can't engage in normal movements," the group alleged.
"Horses used in wedding celebrations are commonly malnourished, sick, and wounded and horse providers often use spiked bits to keep these animals still, amid terrifying and chaotic noise and crowd," said PETA India CEO and equine expert Manilal Valliyate.
PETA India is calling on couples to keep horses out of their weddings and "celebrate with compassion, not cruelty", he said.
PETA India also said that despite being prohibited under the Prevention of Cruelty to Draught and Pack Animals Rules, 1965, the use of spiked bits to control these horses is common.
The animal rights group claimed that it has sent a letter to the Ministry of Environment, Forest and Climate Change to enforce the law against the use of such objects used on horses.
The group said it has also "written" to an e-commerce giant asking it to not sell such devices on its website. —PTI
Top News
Addressing a rally, Shah asks whether terrorism has ever ben...
Development in Himachal possible as people voted BJP to powe...
The Ministry of Defence spokesperson from Tezpur says the mi...
45-50 people, including women and children, were on the bus
Incident took place when people went close to the effigy to ...