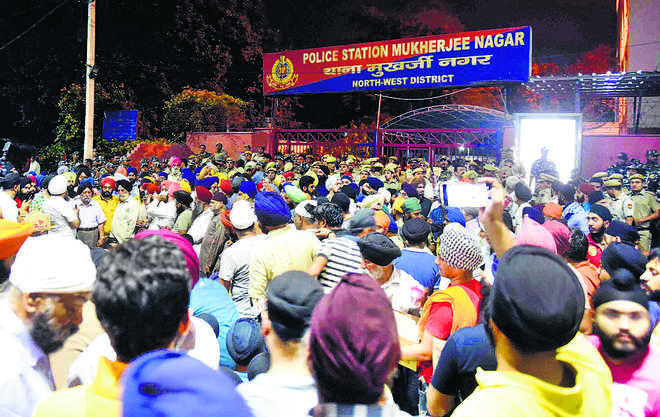 New Delhi, June 18
Police Commissioner Amulya Patnaik today submitted a report to the Ministry of Home Affairs (MHA) on police brutality against Sikh Grameen Sewa auto driver Sarabjeet Singh in Mukherjee Nagar here on Sunday.
Two cross-FIRs have been registered, one against the driver and the other against police personnel. The police refused to say more. Protesting Sikhs roughed up SAD leader and Delhi MLA Manjinder Singh Sirsa as he came out of the police station and informed them that the policemen who had thrashed Sarabjeet Singh had not been booked under Section 307 of the IPC (attempt to murder).
Furious, the protesters raised slogans against Delhi Police and demanded a copy of the FIR. The area DCP refused to do so, saying the case was being investigated by the Delhi Crime Branch. Tempers rose. Sensing trouble, Sirsa's aides hurriedly took him away to safety. Sirsa later claimed "vested interests were trying to sabotage the case". The agitating Sikhs also confronted ACP KG Tyagi.
Sikhs in Faridabad, Haryana, too held a protest.
The report is believed to have mentioned the action taken against three cops for "unprofessional conduct", while praising a policeman in civvies for his attempt to control the situation. It is understood to have mentioned that the driver provoked the cops. — TNS
Top Stories