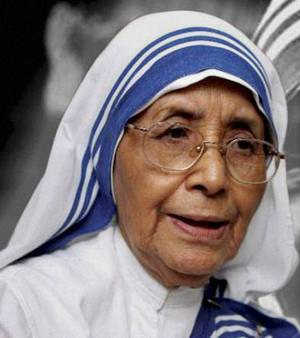 Tribune News Service
Kolkata, June 23
Sister Nirmala of the Missionaries of Charity, founded by the noble laureate Mother Teresa, passed away last night during sleep at St John Church at Sealdah. She was 81.
Sister Nirmala's body would be brought to Mother House tomorrow morning to enable her disciples and the people of other religious communities to pay their last respects to her. She will be buried in the evening near St John Church.
President Pranab Mukherjee, Prime Minister Narendra Modi and AICC chief Sonia Gandhi, among others, mourned her death.
Condolences from different Christian Missions and churches from various countries also reached the Mother House.
She was bestowed with the Padma Vibhushan in 2009 for her sacrifice and lifelong service to the cause of the poor and downtrodden. A lifelong associate of Mother Teresa Nirmala Joshi, afterwards named as Sister Nirmala, dedicated her life to the service of the poor and the downtrodden, especially the orphan children who used to be picked up from the streets and then rehabilitated at the Missionaries of Charity at Sealdah and different other homes.
An MA in political science and a trained lawyer, Sister Nirmala started the MoC's contemplative branch in 1976 and headed it till 1997 when she was elected to succeed Mother Teresa as the order's Superior General.
She was elected for a second term in 2003.
Sister Nirmala was re-elected for a third term on March 13, 2009, but the MoC held a second election days later after she wanted to be relieved of the responsibility owing to ill health.
West Bengal Chief Minister Mamata Banerjee condoled Sister Nirmala's death and tweeted: "Saddened at the passing of Sister Nirmala who headed Missionaries of Charity after Mother Teresa. Kolkata and the world will miss her." International Society for Krishna Consciousness (ISKCON) also extended its condolences.
(With agency inputs)
Top News
Sisodia's residence was raided by CBI in connection with all...
Says CBI raid 'reward' for good performance
Indian and Chinese troops are engaged in a prolonged standof...
Also urges international community to play a 'facilitative r...
Was allegedly mowed down by a dumper truck in Nuh during a r...