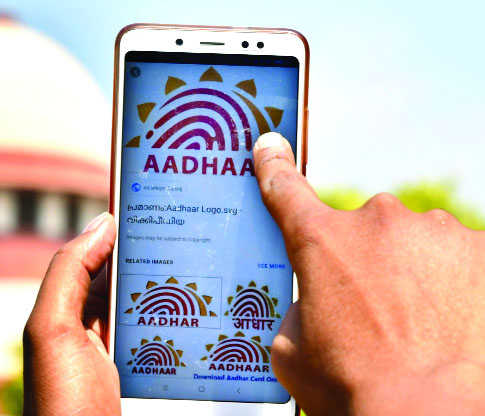 Mukesh Ranjan
Tribune News Service
New Delhi, December 8
In view of the Supreme Court's recent Aadhaar judgment, the government has proposed to make the Unique Identification number optional for citizens. It is also finalising an amendment to the Section 33(2) of Aadhaar Act, which allowed disclosure of biometric information for national security reasons on the orders of an officer not below Joint Secretary.
Sources in the government said the officials in the Ministry of Information Technology had almost finalised the proposal to amend the Aadhaar Act, giving the citizens an option to withdraw their Unique Identification (UID) number, including biometrics and other data gathered by the Unique Identification Authority of India.
In September this year, the Supreme Court had upheld the validity of Aadhaar, but with certain riders, including striking down Section 57 of the law, which allowed private entities to use the UID number for verification. The Bench had also declared that seeking to link it with bank accounts and SIM cards was unconstitutional.
A senior government official said initially, the UIDAI had proposed that once a child turns 18, "he/she will be given six months to decide if he/she wants to withdraw". The proposal was then sent to the Ministry of Law & Justice for vetting. "But the ministry suggested that the option to withdraw should be given to all citizens and this should not be limited to a particular group of people," the official said.
Sources said as the proposal (UID withdrawal) may be discussed at the next Cabinet meeting. However, it is not meant for those who hold Permanent Account Number (PAN) card. The SC had upheld the linkage of PAN with Aadhaar.
As per the records of the Tax Department, the government has issued a little over 37.5 crore PAN cards till March 12, 2018. To date, 16.84 crore PAN cads are linked with Aadhaar, the officials said.
Not applicable to PAN Card holders
The proposal to withdraw their Unique Identification (UID) number is not meant for those who hold Permanent Account Number (PAN) card.
It is likely to be discussed at the next Cabinet meet
Top News
Voting for final phase of Gujarat polls ends, counting of vo...
'You (government) are only filing FIRs, but according to you...
Final voting figure expected to rise further as collecting d...
The Delhi govt opposes the Centre's plea saying it will only...
This comes as a major embarrassment to CM Bhagwant Mann who ...