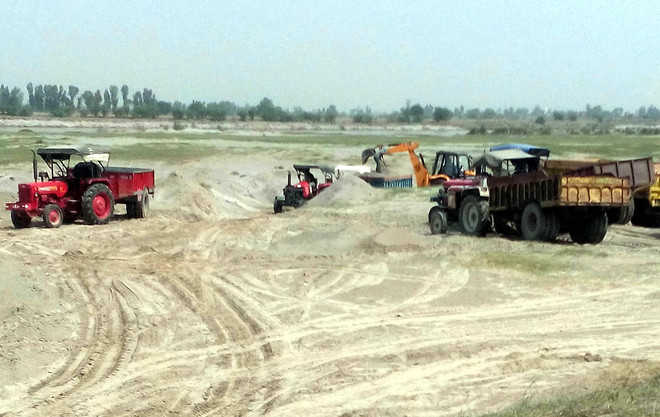 New Delhi, January 31
The National Green Tribunal has sought response from the Centre, Haryana and Uttar Pradesh governments on a plea seeking prohibition of sand mining on Yamuna's riverbed in both the states.
A Bench headed by NGT Chairperson Justice Swatanter Kumar issued notices to the Ministry of Environment and Forests (MoEF), Uttar Pradesh and Haryana government, State-Level Environment Impact Assessment Authority (SEIAA) and others while seeking their reply by February 25.
"In the meanwhile, the state of Uttar Pradesh and state of Haryana shall file details of all JCBs (mechanical excavator) and other earth mining machinery that have been registered in districts Shamli and Muzaffarnagar of state of Uttar Pradesh and Karnal in Haryana," the Bench said.
The directions came while hearing a plea by Haryana resident Mushtakeem who approached the tribunal seeking directions not to grant environmental clearance for mining by mechanised or semi-mechanised machinery.
Mushtakeem alleged that mining leases have been granted in several districts, including Yamuna Nagar, Karnal, Panipat, Sonepat in Haryana; while in Uttar Pradesh, sand mining leases were given in Shamli, Muzaffarnagar and Saharanpur districts.
The plea, filed through advocates Vikram Punia and Devashish Bharuka, said despite stringent special conditions being imposed, mining of sand and minor minerals on river bed mining was being done on the riverbed by using heavy machinery contrary to terms and conditions of environmental clearance.
It claimed that mining in Yamuna was violation of the order of the tribunal which specifically directed the Haryana and Uttar Pradesh governments that no mechanical mining would be permitted on the river bed at any place.
"Pass an order directing closure of all sand mining operations on river bed of Yamuna in UP and Haryana and frame strict guidelines to ensure compliance of post-environmental clearance terms and conditions by the mining lease holders in order to safeguard the environment around the mining area," the petition said.
The tribunal had last year banned sand mining on Yamuna and said "no mining activity, both legal and illegal, should be carried out on the banks of river" after a plea alleged that some private firms were engaged in the activity and a temporary bridge was made on the river obstructing natural flow of water. — PTI
Top Stories