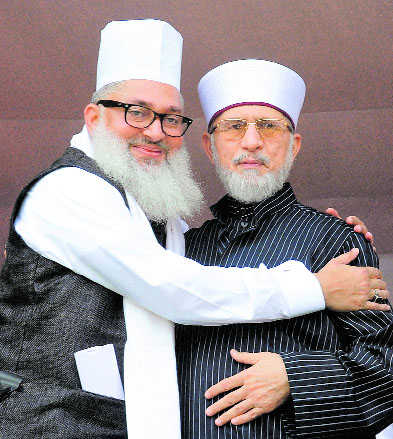 New Delhi, March 20
Use of religion to drive terrorism should be considered an act of "high treason" and India and Pakistan must act tough to check radicalisation and spread of extremism, a powerful Pakistani-Canadian cleric said at the World Sufi Forum here today.
Muhammad Tahir-ul-Qadri said India and Pakistan should introduce counter-radicalisation curriculum in schools, colleges, universities, madrasas and religious institutions to shield youths from being brainwashed into taking up arms and doing evil things in the name of religion. "Wherever terrorism is promoted in the name of faith and religion should be considered an act of high treason," he said.
The cleric, whose massive protest in Islamabad a year and half ago had shaken the Nawaz Sharif dispensation, said terror outfits exploiting religion to spread terrorism must be dealt with very strongly and that they should not be forgiven at all.
"This is a criminal act. If Jaish, Lashkar, al-Qaeda, Islamic State or any Hindu outfit is using religion to perform terrorism, then very strong action should be taken," the 65-year-old cleric, who has a strong support base in Pakistan, said while addressing a gathering at Ramlila Maidan.
Identifying terrorism as the biggest threat being faced by India and Pakistan, he said the time had come to effectively deal with terrorists as well as those who spread mischief and violence in the name of religion.
"Wherever terrorism exists, wherever are the roots, whatever are the groups, everybody knows about it. Both India and Pakistan should take common action. Unless terrorism is uprooted, the region will be deprived of development," he said. Pitching for a dialogue between India and Pakistan, Qadri said both countries must decide whether they want to continue nearly seven decades of hostility or would prefer a path of peace, economic growth and development.
"This is not the way to live. Both countries must realise that about 70 years have passed. They should decide whether to live like enemies forever or they will become friendly neighbours," he said. — PTI