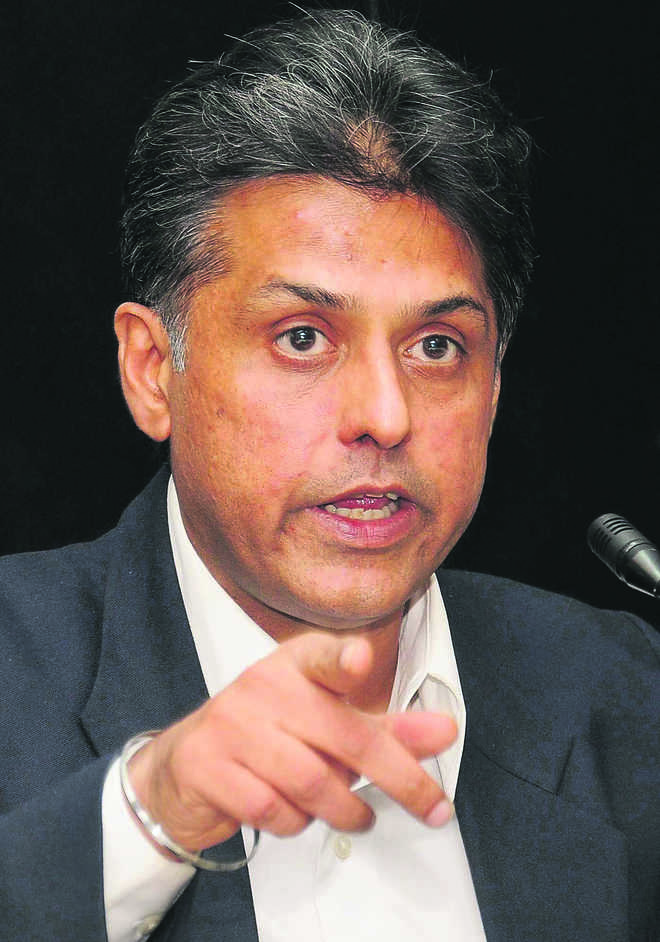 Aditi Tandon
Tribune News Service
New Delhi, June 8
Just when the issue of former President Pranab Mukherjee's visit to RSS headquarters seemed closed for the Congress with most leaders hailing his speech at Nagpur, former minister Manish Tewari brought it to life again.
The former Ludhiana MP compared Mukherjee's visit to Nagpur with concessions the European nations granted to Hitler under the 1938 Munich Pact, hoping to avert a war.
"Whatever the motivation (of your Nagpur visit) was, it will be seen as just an attempt to mainstream RSS in secular and pluralistic consciousness. History tells us when Nazis were strutting around Europe in black berets, Chamberlain through the Munich Pact 1938 thought he had bought the 'peace of our times'. What a false dawn it was," Tewari said in the most caustic remarks against Mukherjee yet. His reference was to then British PM Nevile
Chamberlain, who believed appeasing Hitler would help. Tewari dared Mukherjee to answer what was so evil about the RSS when it was banned under him as a minister in 1975 and 1992 and what's so good about it now.
"May I ask you a question that you still have not answered that is bothering millions of secularists and pluralists. Why did you choose to go to the RSS headquarters and deliver homilies on nationalism? Your generation cautioned mine in training camp after training camp through '80s and '90s about the intent and designs of RSS. You were a part of the Government that banned RSS in 1975 and again in 1992. Don't you think you should tell us what was evil about RSS then that has become virtuous now? (sic)" Tewari asked Mukherjee in a tweet.
The Congress leader also said "either what we were told then was wrong, or your lending respectability if not legitimacy to RSS by the act of association is not kosher, given your stature in public life".
His remarks came simultaneously to Congress veterans P Chidambaram, Anand Sharma and Abhishek Singhvi applauding Mukherjee for educating the RSS in tolerance.
"We hope the RSS will absorb Pranab Da's message," senior Congress spokesman Anand Sharma said. Chidambaram noted, "Happy that Mr Pranab Mukherjee told the RSS what is right about Congress' ideology. It was his way of saying what is wrong about RSS' ideology."
Overall, the Congress wanted to move on from the issue, convinced that it had prevented the RSS from taking mileage. "We don't think the RSS and BJP made any gains from the visit after what we said of Pranab Mukherjee's speech and how we interpreted it," was the dominant view in Congress though privately every leader sounded anguished over Mukherjee's praise of RSS founder KB Hedgewar. The party decided to term this praise as Mukherjee's "personal view".
Congress media head Randeep Surjewala termed the praise as "niceties Mr Mukherjee extended to hosts".
Top News
Several centrally-protected monuments across the country lit...
Harried passengers take to social media to vent their ire at...
Lapid had stirred a massive controversy by terming Vivek Agn...
Voter turnout less than 66.75 pc recorded in first phase of ...
DigiYatra will provide seamless entry and embarkation proces...