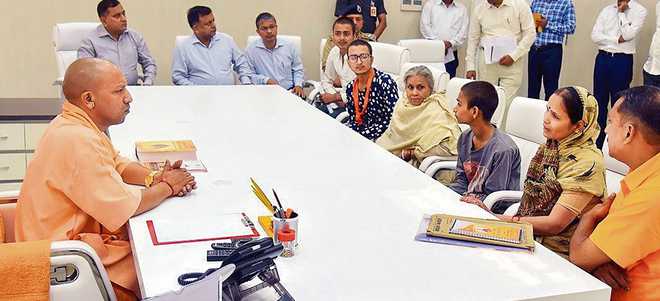 Tribune News Service
Lucknow, October 20
The police on Sunday claimed to have identified the two killers who murdered Hindu leader Kamlesh Tiwari in his office-cum-residence at Khursheed Bagh in Luckow on Friday.
DGP OP Singh said the police had seized the blood-stained saffron kurtas and a towel of the attackers from a hotel room in the Naka Hindola area.
The hotel records showed two persons — Moinuddin Pathan and Ashfaq Hussian — had checked in the hotel using their original IDs.
The attackers reportedly checked in at 10 pm on October 18 and checked out at 1.30 pm on October 18, an hour after killing Tiwari.
"We are sending the kurtas and the towel for forensic examination to ascertain if the blood o0n the clothes was of Tiwari. The SIT is interrogating the hotel staff," said the DGP.
Singh said it was clear that the attackers had no wish to hide their identities and had the nerve to leave vital clues all the way. "They brought sweets from Surat and left the bill with it through which we could trace them through the CCTV footage of the sweet shop," he said.
Meanwhile, the family of the deceased leader met Chief Minister Yogi Adityanath on Sunday with an 11-point charter of demands. The Chief Minister offered condolences to the family and assured them that justice would be done to them.