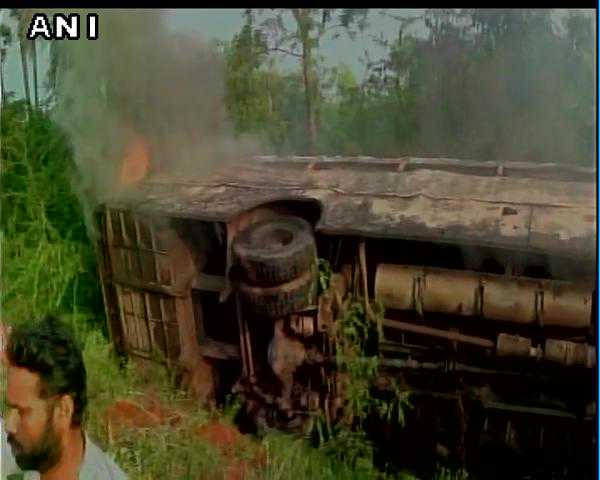 Ongole (AP), October 17
At least 15 people, including three children, were killed today and 21 injured when a mini truck carrying a marriage party collided with a bus near Kandukur town in Prakasam district of Andhra Pradesh.
Police said a mini truck carrying a marriage party coming from Kandukur hit the bus coming from the opposite direction.
Fifteen people have been killed in the mishap after the bus caught fire in the mishap, Inspector of Police (Kandukur) M Lakshman said.
The mini truck was carrying 40 passengers while there were no passengers on board in the bus. Fire tenders were pressed into service to douse the flames.
The officer said the injured are being shifted to Kandukur, Ongole and Nellore districts for treatment.
Andhra Pradesh Transport minister Sidda Raghava Rao also reached the spot and is supervising the rescue operations.
District Collector Sujatha Sarma also visited the mishap site.
The deceased were identified as -- N Subhasini (31), P Prasad (30), R Subba Rao (50), E Chiranjeevi (45), S Chandu (10), S Adinarayana (10), Srilakha (8), M Padma (40), K Sushela (47), S Venkateswara Rao (40), S Rajamma (40), V Subbaiah (30), V Chinnaya, S Rajayya, and B Hazarataiah. — PTI
Top News