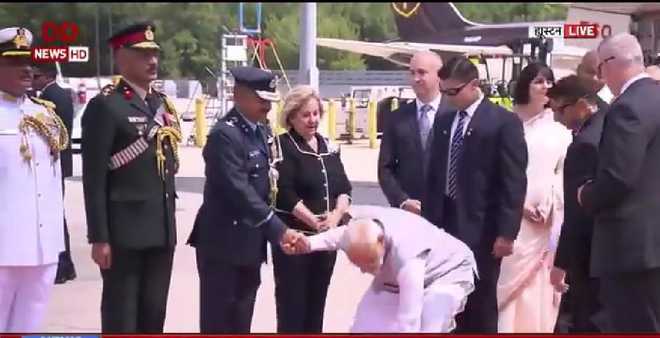 Tribune Web Desk
Chandigarh, September 22
As Prime Minister Narendra Modi arrived at an airport in Houston on Saturday, he bent down to pick up a flower that had fallen on the ground—a gesture that left Twitterati praising him for his 'humility'.
Modi is in Houston to address the mega "Howdy, Modi! Shared Dreams, Bright Future" event at the NRG Stadium on Sunday.
PM @narendramodi reaches #Houston on 7-day USA visit#HowdyModi pic.twitter.com/eaqQztEt90

— Doordarshan News (@DDNewsLive) September 21, 2019
When Modi arrived at the airport—where he was greeted by India's Ambassador to the US, Harsh Vardhan Shringla, and his American counterpart Ken Juster—a flower from a bouquet given to him by an American official fell to the ground. The prime minister stopped, picked up the flower and handed it to someone in his security team.
On Twitter, the prime minister is being praised for his 'simplicity' and 'commitment to cleanliness' after a video of the incident surfaced.
#HowdyMody PM Narendra Modi picked up flowers which fell from the bouquet presented to him during a welcome ceremony at airport in Houston, where he will attend the 'Howdy, Modi!' event. It depicts the simplicity & commitment towards cleanliness. pic.twitter.com/GTTS0J1lOP

— satyendra soni (@soni_saty) September 22, 2019

Very well observed and pointed out.......such small things matter in making a bigger world of ours . Somebody gifts you a bouquet....a flower falls down....not picking it up would clearly be seen as an act of arrogance and conceit. PM Modi is instinctive in sensitivity to others.

— rishi (@cheer14361) September 22, 2019
@narendramodi once again showed to the world that he practises what he preaches. PM Modi was presented with a bouquet of flowers by an American dignitary. A flower fell off the bouquet and to everyone's surprise,Modi bent down and picked it up himself.
संस्कृति के पुरोधा को सलाम pic.twitter.com/Lmq2RwHudi

— Yaser Jilani (@yaserjilani) September 22, 2019
Top Stories