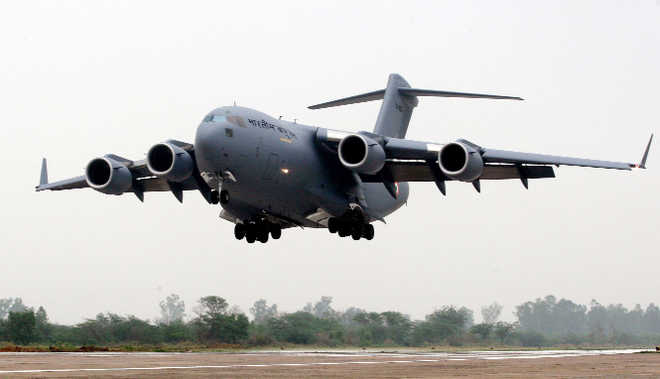 Ajay Banerjee
Tribune News Service
New Delhi, March 1
Amid the din of the Railway Budget and the General Budget, a small script — on sharing defence technologies — has changed in India and US relations.
Washington on February 26, the day of the Railway Budget, made clear the importance of signing three "foundational agreements" on defence between the two countries, saying this will come in "handy" when transferring technology to India.
Top sources said there has been no agreement so far within the Indian establishment on signing any of these three agreements with the US. In 2010, the then Defence Minister AK Antony had rejected outright the signing of these three agreements and even termed these "intrusive".
In June 2012, Leon Panetta, the then Secretary Defence of the US, while talking about these agreements at a function in New Delhi, had said, "These are not issues anymore."
The Indian Air Force accepted special planes — the C-130-J Super Hercules — without five of the US-coded equipment that help in navigation and operations. New Delhi opted to buy this equipment from the open market rather than allow the agreements. Other US-made planes — the heavy lift C-17 Globemaster III and the naval surveillance Boeing P8-I — also came without the highly encrypted US technologies.
The agreements are: Communications interoperability and security memorandum of agreement (CISMOA), basic exchange and cooperation agreement for geo-spatial cooperation (BECA) and the logistics support agreement (LSA).
Senior Pentagon official Frank Kendall, the US-appointed pointsman for the much-talked-about Defence Technology and Trade Initiative (DTTI), was in New Delhi on February 26 to meet his counterpart, G Mohan Kumar, secretary, Defence Production.
Kendall told reporters here: "I don't think there is a strong connection between the two (DTTI and the pacts)... these are not really under the umbrella of the DTTI." Even as Kendall said that Kenneth Handelman, Deputy Assistant Secretary (Defence Trade Controls) in the US State Department, said these were necessary. "DTTI has progressed in the absence of the foundational agreements.. .but at some point, the foundational agreements are going to be an issue".
News agency PTI quoted Handelman as having said: "I certainly support what Kendall said...that the foundational agreements don't directly relate to what is being done on the DTTI right now. If all goes well and both countries expand this relationship, that would entail joint production and development of higher military technology, the agreements would be handy".
As of now, there is no deadline. The agreements have come up for discussion for the second time in one week. On the sidelines of the Aero-India (Feb 18-22) at Bangalore, Handleman had spoken about these agreements. This is first time in three years that the US has restarted the issue of agreements.