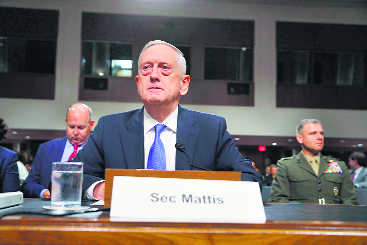 Washington, October 4
The Trump administration today threw its weight behind India's opposition to China's ambitious China-Pakistan Economic Corridor, saying the $50 billion project passes through "disputed territory" and no country should dictate the belt and road initiative.
The China-Pakistan Economic Corridor (CPEC) passes through Pakistan-occupied Kashmir (PoK), over which India has conveyed its protests to China. The area covers Karakoram mountain ranges, including the Siachen glacier.
(Follow The Tribune on Facebook; and Twitter @thetribunechd)
"In a globalised world, there are many belts and many roads, and no one nation should put itself into a position of dictating 'one belt, one road'," US Defence Secretary Jim Mattis told members of the Senate Armed Services Committee during a Congressional hearing.
"That said, the One Belt One Road (OBOR) also goes through disputed territory, and I think, that in itself shows the vulnerability of trying to establish that sort of a dictate," Mattis said, apparently referring to India's position on CPEC.
Mattis was responding to a question from Senator Charles Peters on OBOR and China's policy.
"The One Belt One Road strategy seeks to secure China's control over both the continental and the maritime interest, in their eventual hope of dominating Eurasia and exploiting natural resources there, things that are certainly at odds with US policy. So what role do you see China playing in Afghanistan, and particularly related to their One Belt One Road?" Peter asked Mattis.
India skipped the Belt and Road Forum (BRF) in May this year due to its sovereignty concerns over the CPEC, a flagship project of China's prestigious Silk Road project, officially called OBOR.
The 3,000-km-long CEPC is aimed at connecting China and Pakistan with rail, road, pipelines and optical fiber cable network. It connects Xinjiang province with Gwadar port, providing access to China to the Arabian Sea.
The project, when completed, would enable China to pump its oil supplies from the Middle East through pipelines to Xinjiang, cutting considerable distance for Chinese ships to travel to China. — PTI
Pak has to realise tide has shifted: Mattis
Washington: Pakistan can have strong economic benefits from India if it realises that the "tide has shifted" and it stops providing safe havens to terrorists on its soil, US Defence Secretary Jim Mattis has said.
Mattis told members of the Senate Armed Services Committee that the Trump administration is very clear and firm in what it expects from Pakistan and is using all aspects of the government to bring about the change, working internationally.
His statement comes weeks after President Donald Trump announced his Afghanistan and South Asia policy in which he adopted a tough policy against Pakistan. PTI
Top News
Shah appeals for surrender of arms, says dialogue only way f...
PM flags off cargo train from Bihar to Nepal
Mahapanchayat in Kurukshetra today to chalk out future cours...
2nd science topic to be removed by NCERT after Darwin's theo...