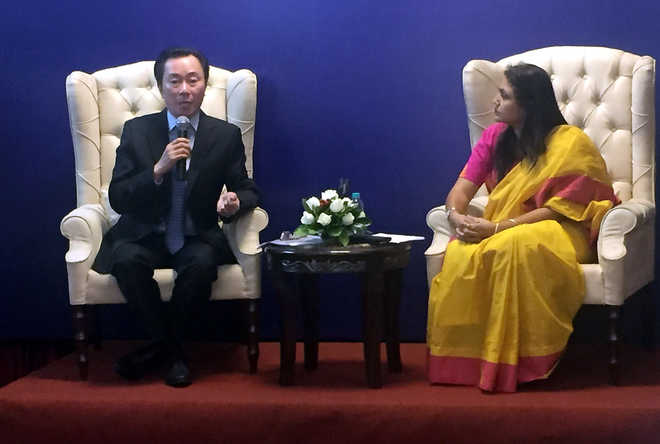 K V Prasad
Tribune News Service
New Delhi, November 15
As India pursues its Act East Policy with vigour, Vietnam — an important country in the region — on Thursday said it welcomes any initiative that contributes to peace and stability in the region and South China Sea but was opposed to any military alliance.
"We follow closely developments... anything that brings peace, stability, security, freedom of navigation and freedom of over flight in South China Sea... We welcome initiative that follows the Code of Conduct both inside and outside of the region," newly-appointed Vietnam Ambassador Pham Sanh Chau said here in response to the Quad grouping and his country's stance on it.
Quad, a grouping of the United States, Japan, Australia and India, in the year 2007 attracted adverse reaction from China and scaled down since then. Recently, the grouping was re-energised with rounds of meetings of officials from these countries.
The Vietnamese Ambassador said his country was opposed to any military alliance in the region, or the use of threat or force against any country since it goes against the position of Vietnam that includes not aligning with any country, not to play host to any country or not join any country to fight another country. While working to maintain peace and stability in the region/South China Sea, he said. "We do not want it to be a battle theatre for superpowers...we have been a victim of wars."
Interacting with media ahead of President Ram Nath Kovind's November 18-21 visit to Vietnam, the Ambassador said stepping up the level of engagement between the two countries is a sign of growing confidence and maturity in bilateral ties that in 2016 got upgraded to Comprehensive Strategic Partnership.
Prime Minister Narendra Modi's visit in 2016 was first by Indian Head of the Government in 15 years while this year, President Tran Dai Quang came to New Delhi a month after Prime Minister Nguyen Xuan Phuc was here for ASEAN Commemorative Summit and Republic Day this January.
On the bilateral front, the Ambassador who was credentialed this week, said his priority includes operationalise a direct flight to Vietnam and bring Vietnam television to open an office in India to promote better understanding. Considering that Indian movies continue to be popular in Vietnam and a Hindi television serial followed the most, the Ambassador plans to rope in film makers to choose Vietnam as a destination.
On the trade front, he said the countries that were struggling to reach US $1 Billion a decade ago, is now booming recording $8.5 (2017) and already recording $9.2 bn in last months. Both countries have set an ambitious target of $ 15 bn by 2020.
During PM Modi's visit, India offered $500 million line of credit for purchase of defence equipment while Vietnam is acquiring 11 High Speed Patrol Vessel, six of which would be made in that country with Indian assistance.
Top Stories