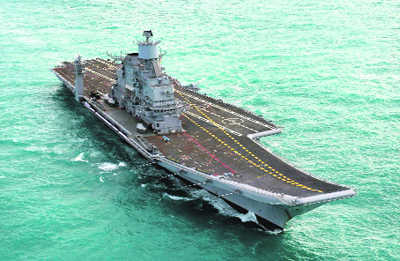 Ajay Banerjee
Tribune News Service
New Delhi, April 16
India's biggest naval warship, the sea-borne aircraft carrier the INS Vikramaditya, is under a minor 're-fit' that will complete its Close-In Warfare System (CIWS), a protection from incoming enemy missiles.
The Israeli Barak missile is being installed on the ship at its home the base, Karwar, south of Goa.
Navy was originally looking at two options, either the Israeli Barak or the Russian Shitil missiles. Vice Admiral Ashok Subedar, Controller Warship Production and Acquisition, told the media that the Vikramaditya will get a Barak-missile launch system that will be taken from one of warships that is being decommissioned.
Sources said the INS Godavari, which had been given a Barak launch system some 10 years ago has a fully functional system and that is being put on the aircraft carrier.
The Godavari is 32 years old and is set for decommissioning.
"The Barak, Long Range Surface-to-Air Missile (LR-SAMs), is being fitted on the warship. It's a complex procedure and will entail some cutting through the deck, a period of some four to nine months has been factored in for this," sources said.
The Vikramaditya participated in the naval exercise 'Tropex' that concluded on February 28. After the exercise, its re-fit was ordered.
The warship could carry up to 32 or 48 LR-SAMs
A CIWS system is needed on board large warships as the last protection layer against incoming missiles as well as aircraft. It is like the ships own air-defence system. When deployed, a carrier does not float alone but moves around with a small flotilla of warships. Some of the Indian warships carry the sea version of the 290 km range hypersonic missile (BrahMos).
The LR-SAMs is one part of the CIWS and it includes other guns on the deck and an electronic warfare suite.
Top Stories