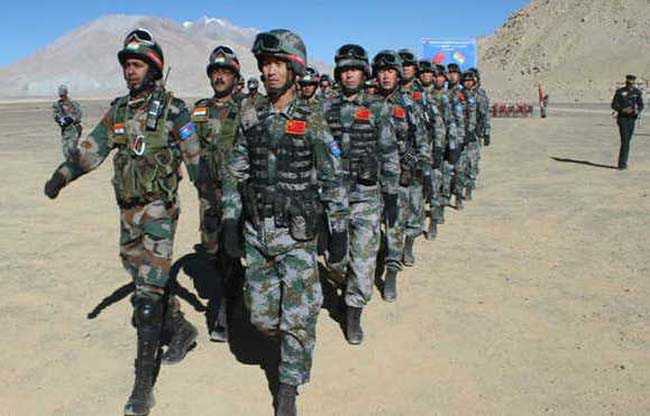 Beijing, July 3
China will resolutely safeguard its sovereignty in the border conflicts with India even at the cost of war, Chinese experts warned on Monday, amid a stand-off between the two nations in the Sikkim sector.
(Follow The Tribune on Facebook; and Twitter @thetribunechd)
As the stand-off at the Doklam area continued for the third week, the longest between the two countries, the official media and the think tanks here said that "war is possible if the conflict between India and China is not handled properly".
---
Read: Sikkim stand-off: India pushes troops in Doka La
India must withdraw troops from Doklam to end stand-off: Chinese media
Sino-Indian troops' scuffle leads to tension, bunker damage in Sikkim sector
---
Of the 3,488-km-long India-China border from Jammu and Kashmir to Arunachal Pradesh, a 220-km section falls in Sikkim.
China will resolutely safeguard its border sovereignty in conflicts with Indian troops even at the cost of war, state-run Global Times daily quoted Chinese experts as saying.
"China is also different from what it was in 1962," Wang Dehua, a professor at the Shanghai Municipal Centre for International Studies told the daily reacting to Defence Minister Arun Jaitley's comments that India of 2017 is different from what it was in 1962.
"If they are trying to remind us, the situation in 1962 was different and the India of 2017 is different," Jaitley had said.
"India has been treating China as its biggest competitor since 1962, as both countries share many similarities. For instance, they are both developing countries with huge populations," Wang said.
"There could be a chance of war if the recent conflict between China and India is not handled properly, observers said, noting that China will resolutely defend its territory and safeguard the border," the Global Times report said.
"In 1962, China fought a war with India after the latter encroached on Chinese territory, resulting in the deaths of 722 Chinese troops and 4,383 Indian soldiers," the daily said.
Experts called on both sides to resolve the conflict through dialogue and negotiations, it said.
"Both sides should focus on development rather than conflict or war," Zhao Gancheng, director of the Centre for Asia-Pacific Studies at the Shanghai Institute for International Studies, told the newspaper.
"A conflict between the two may give other countries a chance to take advantage, for example, the US," he said.
"India should change its hostile attitude toward China as a good relationship is beneficial for both sides," Wang said.
The Chinese experts also took exception to reports that India's Defence Ministry is surveying the China-India border in order to build an "all-weather railway corridor" with broad-gauge network for swift movement of troops and weaponry.
"India is trying to catch up with China in the construction of frontier defence," Zhao said. PTI
Top News
Johnson, 58, will remain in charge at 10 Downing Street unti...
At a one-hour meeting in Bali, Jaishankar and Wang look forw...
Raghav Chadha and Arvind Kejriwal in attendance
'Chhote da number vadde ton baad hi aunda hai', says Chadha,...
The case dates back to 2015