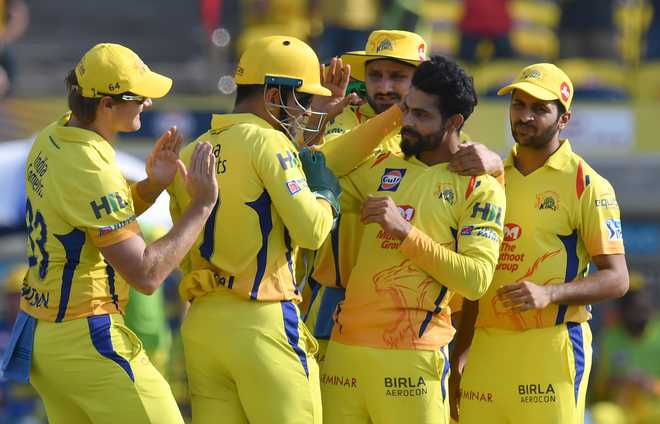 Shiv Kumar
Tribune News Service
Mumbai, May 5
The severe shortage of water that accompanies every summer is telling on the IPL matches being held in Mumbai and Pune.

With the Bombay High Court striking down a deal between the Maharashtra government and the state cricket association to supply water from the Pavana dam to the latter's cricket stadium in Pune, matches planned at the venue have been moved out. MCA officials said the Eliminator and Qualifier 2 rounds of the tournament that were scheduled to be played on May 23 and 25, respectively, have been moved to Kolkata's Eden Gardens from Pune.

Both the matches feature Chennai Super Kings, who opted for Pune following protests by pro-Tamil outfits that have threatened to attack the match venue in the capital of Tamil Nadu over the sharing of Cauvery river waters.

On Friday, the Bombay High Court restrained the Maharashtra Cricket Association (MCA) from drawing water from the Pavana river for the maintenance of its cricket stadium in Pune. The body was asked to make other arrangements for water.

While hearing a Public Interest Litigation (PIL) filed by Non-Government Organization Loksatta, the high court said providing water for maintaining cricket pitches amounted to recreational use for water, which had the lowest priority under Maharashtra's water distribution policy. The MCA had contended that the supply of water to its stadium be classified as industrial use.

The Brihanmumbai Municipal Corporation, which was the other respondent in the petition, told the court that it would not be supplying any additional water to the Wankhede Stadium in Mumbai for the IPL tournament. Wankhede stadium officials said they have been sourcing water from private wells in South Mumbai for maintaining the pitches during the IPL tournament.

"We buy water from private suppliers in Mumbai who discharge five to eight tankers of water daily into our storage tank, which is used to maintain the cricket pitches," an official from the Mumbai Cricket Association, which manages Wankhede Stadium said. Each tanker has a capacity of 10,000 litres of water. In addition, the Mumbai civic body supplies around 18,000 litres of water to the stadium daily for drinking purposes, officials said.