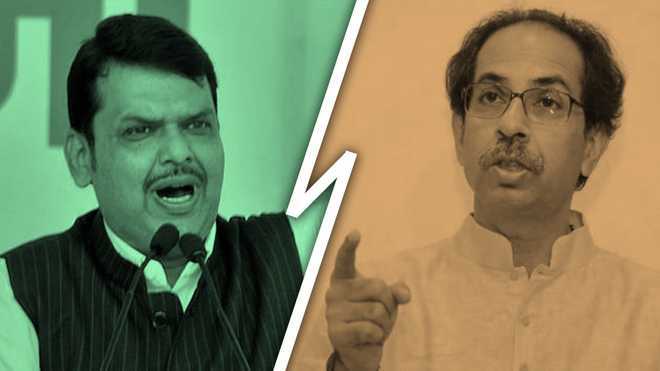 Vibha Sharma
Tribune News Service
New Delhi, November 9
As the term of the Devendra Fadnavis-led Maharashtra government ends, several theories have emerged about the piquant political situation in the state.
Senior BJP leaders admit this is not what they had foreseen on October 24, the day the results of Assembly elections were announced.
"We expected some difficulties in Haryana but not in Maharashtra where the verdict was clearly in favour of the BJP- Shiv Sena coalition," a senior leader had said on the day Fadnavis had come calling on BJP chief Amit Shah.
So what happened in the days that lead to the bitter impasse?
One theory is that smarting over the "ED humiliation" NCP chief Sharad Pawar is the primary source behind the effort to "teach a lesson" to Prime Minister Narendra Modi and Amit Shah.
"Pawar, who was perhaps on his last political run, has shown he is still a force to reckon with, the Maratha strongman. The Enforcement Directorate's (ED) move gave a new lease of life to the Nationalist Congress Party, and it's chief Sharad Pawar succeeded in cashing in on the wave of sympathy from supporters. He is pumping the Sena to teach a lesson to Modi and Shah," said a political observer, on the condition of anonymity.
So while Pawar may be on a mission to show the Modi-Shah duo "his power and their situation if he is needled unnecessarily", it seems there are some in the BJP who want to "show an arrogant Fadnavis his place" as well.
"Otherwise how could a comfortable position on October 24 lead to such a mess? It was believed that after a degree of political posturing from the Sene, the two allies would make-up and form the next government. It seems senior leaders in the BJP are fueling this stand-off," said the observer.
So is there a possibility of some other BJP CM on which the Sena could agree or what PM Modi reiterated on October 24, that Fadnavis would be the next CM, still holds?
Maybe, maybe not, but the third, and seemingly the most plausible theory, is that the senior BJP and RSS leaders want to 'sort' the matter.
"The BJP wants alliances to materialise and continue. That is why they went with the Sena; they knew the ground situation. The fact is Modi and Shah kept alive the relationship with the Akali Dal despite the demands from within to end it," said a political observer.
The Sena also knows that if this marriage ends now, there will be no attempt for reconciliation from the BJP. The Sena, which is fighting for its political survival, understands that BJP can threaten to take its place in the state. That is the reason it is still part of the current Fadnavis government.
Top Stories