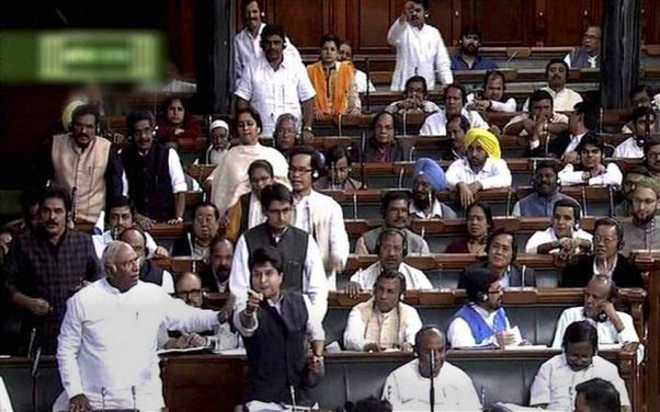 Ajay Banerjee
Tribune News Service
New Delhi, March 10
The Lok Sabha tonight passed the contentious land acquisition Bill after the government yielded to Opposition demand and brought in nine amendments.
The amendments prevent land from being acquired for private purposes, but restore the powers to appeal in court against erring government officials. The "Right to Fair Compensation and Transparency in Land Acquisition, Rehabilitation and Resettlement (Amendment) Bill 2015" was passed by voice vote amid a walkout by the Opposition — the Congress, Trinamool Congress, BJD, Aam Aadmi Party, Left, NCP and the Samajwadi Party.
While the Shiv Sena, a key ally of the NDA, abstained from voting, the SAD voted but clarified their party would not acquire land without the consent of farmers.
Tamil Nadu-based AIADMK voted with the NDA. Moving the amendments, Rural Development Minister Birender Singh assured the House that land would not be acquired for the private sector by the government.
Birender Singh, who is a grandson of Jat leader Sir Chottu Ram, chided the Congress for being anti-farmer.
At least four separate amendments moved by the Opposition seeking restoration of clause seeking consent of farmers were negated by a division of votes as the ruling combine sailed through on the strength of their "brute majority" in the Lok Sabha. The Bill will now have to be passed by the Rajya Sabha to become an Act. The BJP does not have a similar majority in the Upper House. With the BJD and the Shiv Sena still opposing certain clauses, it appears to be an uphill task for the ruling combine.
The Mines and Minerals (Development and Regulation) Amendment Bill, 2015 was referred to a select committee by the Rajya Sabha this evening, raising the scope of the land acquisition Bill getting further amended when it is sent to the Rajya Sabha. The Right to Fair Compensation and Transparency Act, 2013 necessitated consent of 80 per cent of land owners for private projects and 70 per cent for PPP projects. The Bill to amend the Act moved on February 24 removed this clause.
Birender Singh, while explaining the need to remove the clause, cited a meeting of CMs and chief secretaries in 2014 wherein they said the consent clause was holding back development as getting the consent was impossible.
Top News
Both Houses adjourned for the day amid uproar over Adani iss...
Adani Group company stocks have lost over US$ 90 billion in ...
Total losses in stocks of 7 listed Adani group companies hit...
DGP said Arif was being handled by a Pak-based LeT terrorist...
Idol of Lord Ram's 'baalroop' carved out of these stones wil...