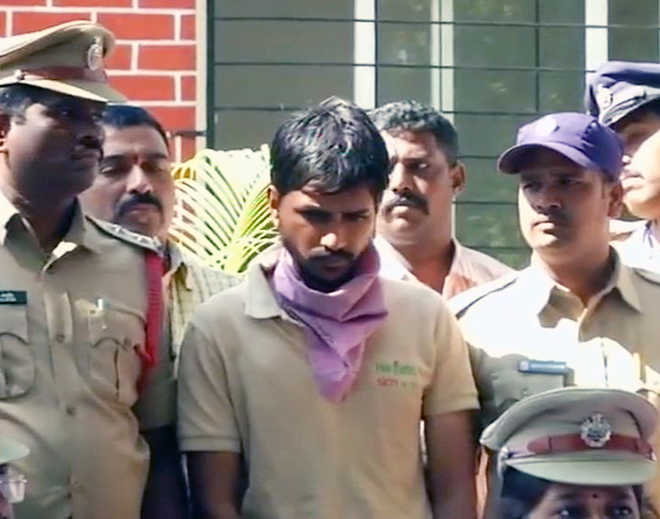 Suresh Dharur

Tribune News Service

Hyderabad, December 22
A 24-year-old woman, who was set ablaze by a jilted lover in full public view, died here on Friday.

Sandhya Rani, a receptionist at a private company in Secunderabad, was returning home from work when Sai Karthik (28), her former colleague, followed her on a motorbike and stopped her at Lalaguda area last evening.

Following a heated argument, he pulled out a can of petrol and poured on her. The stalker then lit a matchstick, threw at her and drove away as passersby watched in shock and disbelief.

Sandhya, who suffered more than 60 per cent burns, was rushed to Gandhi Hospital, where she succumbed to injuries this morning. In the dying declaration, she said she was attacked by Karthik, after she refused to marry him. Karthik, who lost his job a year ago, has been stalking her and pestering her to marry him.

"Sandhya died around 7:30 am while undergoing treatment at the hospital," the Deputy Commissioner of Police (north zone) B Sumathi said.

The attacker has been arrested and charged with murder, stalking and also under a law on atrocities against Scheduled Caste/Scheduled Tribes.

Fed up with his constant calls, Sandhya recently blocked his mobile number and stopped talking to him. This infuriated Karthik, who had earlier threatened her of dire consequences. She had informed some senior colleagues, including her company owner D Jagan Reddy who spoke to Karthik and warned him not to harass and stalk her.

The victim's mother D Savitri said her daughter never spoke about the threats and harassment she had been facing from the stalker. "If we had known about it, we would have taken precautions and informed the police," Savitri said.