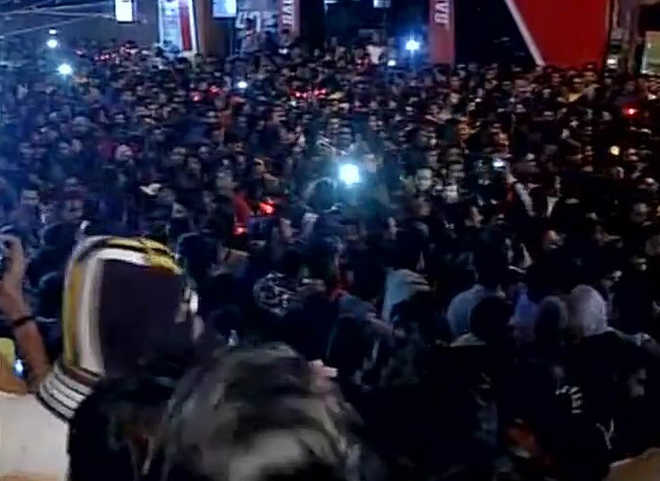 Bengaluru, January 3
New Year revelry turned into a nightmare for several women who were allegedly molested despite huge police presence at a large gathering in city's downtown region, drawing widespread outrage even as the state Home minister stoked a controversy by blaming the youngsters' "western ways" for the incidents.
(Follow The Tribune on Facebook; and Twitter @thetribunechd)
National Commission for Women chairperson Lalitha Kumaramangalam came down heavily on the police and slammed home minister G Parameshwara's remarks, demanding that he should resign. The NCW as well as the Karnataka State Commission for Women also sought separate reports from administration and police over the incidents.
Police said they were looking for the culprits involved in the alleged incidents on Saturday night in and around the junction of Brigade Road and M G Road, where thousands had gathered to herald the New Year.
Eyewitness accounts suggest that women were molested and groped and lewd remarks were also passed by miscreants late night on December 31 in the posh area even as it was claimed that 1,500 police personnel had been deployed to control the crowds.
While women without any male companions had to seek protection from women police personnel, who were very few in number on the spot, men who had come with female friends had a tough time protecting them, according to eyewitnesses.
Speaking to reporters, Home Minister G Parameshwara said "It is not good. Definitely we will look into it and see that it is not repeated."
"There was need to look into how such events can be organised and regulated... We cannot have 10,000 police men," he said.
Speaking to a TV news channel, he said: "Unfortunately, what is happening is as I said days like New Year Brigade Road, Commercial Street, M G Road, large number of youngsters gather. Youngsters who are almost like westerners, they try to copy the westerners not only in the mindset, but even the dressing."
The minister's remarks drew an angry response from the NCW chairperson who demanded the Home Minister should resign and apologise to the women of the country for making such remarks. —PTI