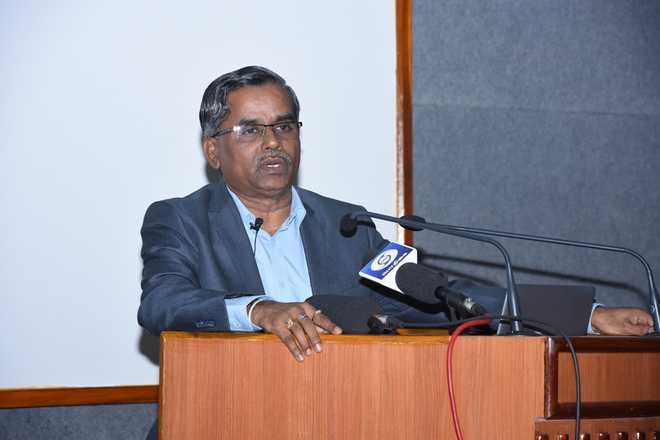 Pankaj Vasudeva
Tribune News Service
Chandigarh, May 6
The excess water released in the heavy water extraction process may well prove to be a lifesaver for thousands of patients diagnosed with breast cancer every year. Realising the health benefits of "deuterium depleted water" (DDW) and its potential to treat cancer, the Heavy Water Board (HWB) is looking for partners to sell it in India.
After years of dependence on foreign nations for the supply of heavy water — used as a coolant and neutron moderator in pressurised heavy-water reactors — India is now its biggest producer in the world, generating millions of tonnes of DDW in the process every year.
The DDW has shown encouraging results in breast cancer therapy and its regular use can have a curative effect on the body, said Dr U Kamchi Mudali, HWB Chairman and Chief Executive, at a recent event hosted by the Department of Atomic Energy in Kalpakkam, Tamil Nadu. The HWB has floated an expression of interest for companies to package it for sale in India.
Preliminary research by the Tata Memorial Hospital in collaboration with the HWB suggests that the DDW, if administered to breast cancer patients two weeks ahead of surgery or chemotherapy, can help speed up recovery and also cut down on chemotherapy dosage, he said. More research is required to substantiate its efficacy in treating other diseases, he added.
The DDW is also being seen as an anti-ageing agent. Its regular consumption by healthy individuals reduces the amount of deuterium in body cells. This lowers the risk of DNA degradation, which effectively slows down the ageing process and prevents degenerative diseases such as cancer, said Dr Mudali.
Doctors at PGIMER, Chandigarh — the nodal centre for cancer treatment in the region — however, say no trials have yet been carried out at the institution on DDW's efficacy in treating breast cancer.
"No one has approached our department so far, but the PGIMER is open to conducting multi-institutional trials under controlled conditions," said Dr Rakesh Kapoor, Associate Professor, Department of Radiation Oncology, PGIMER, while emphasising that clearances from the Drugs Controller General of India and hospital's ethics committee are mandatory. The partner institutions have to fund the trials and provide requisite resources, he asserted.
While DDW's production is regulated in the country, a bottle sourced from international market may cost up to Rs 1,200. All this stands to change with the HWB opening up to DDW's sale for societal benefit under the "Make in India" initiative.
Deuterium and health risks
Non-radioactive in virgin form, deuterium is an isotope of hydrogen present in natural water. Its average concentration in water is 150 parts per million. Studies suggest high deuterium levels in body may cause DNA mutation and subsequent DNA damage.
How is DDW produced
Deuterium depleted water (DDW) is generated during extraction of deuterium from natural water to produce heavy water. DDW contains less than 120 ppm deuterium. Around 35,000 litres of DDW is generated while producing 1 litre of heavy water.