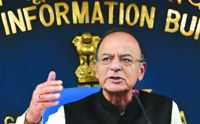 editorial@tribune.com
Tribune News Service
New Delhi, July 6
Former Union Finance Minister Arun Jaitley today said the Union Budget would help India tide over the relatively slower economic growth in the past three quarters.
"India will continue to be the fastest growing major economy in the world. In the last two-three quarters, growth has seen moderation. Unquestionably, the Budget, as a policy document, lays down the roadmap for India to get back on track," Jaitley said in a Facebook post.
Economic growth had slipped to a five-year low of 5.8 per cent in the last available quarter (January to March), while the annual growth rate for 2018-19 at 6.8 per cent was the lowest in five years.
Jaitley said, "The present Budget maintains the path based on the premise that economies which are fiscally prudent, eventually get rewarded as against those who indulge in fiscal adventurism." The former Finance Minister also tried to answer the "fundamental question" of choosing between good economics and clever politics.
"The choice is unfair because any government needs both in order to survive and perform. The PM's first tenure witnessed this blending of good economics and good politics," he said in the Facebook post titled "The Budget 2019-20".