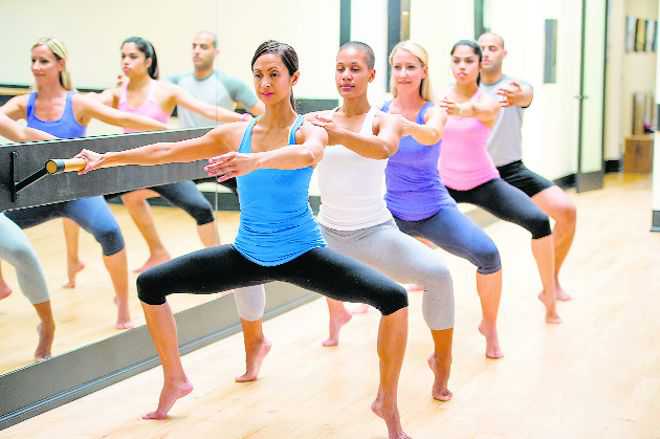 sanjiv@tribunemail.com
Manpriya Singh
The mention of a workout in any conversation to do with fitness, first conjures up images of cardio, closely followed by gym. However, that image has lately been replaced with yoga or the even more popular Pilates. Joining in those images, albeit a little late, is active barre workout, which if defined is a, "unique mix of functional training, dance and pilates," Taru Chaddha, founder RedMat chain of studios, takes on from there. "It is a very popular workout regime worldwide for improving core strength, flexibility and posture. It also helps in inch loss. This 'head to toe' workout needs no previous experience, is never boring and is known to deliver rapid results." However, what it does need is some form of knowledge of ballet dancing.
So, what is an active barre workout?
"It combines pilates and ballet dancing and therefore it's a very rhythmic workout. Think a lot of variations of lunges and a lot of variations of squats." Created as recently as in 1959 by a London-based ballet dancer, battling lower back injury, it's the recent to join in the workouts targeting specific body areas. "People with injuries on the lower back can resume this workout as it's a very controlled form of cardio. Your heart-rate doesn't go through the roof. It targets lower body muscles, ankles and thighs."
Let's nor bar the barre
Talk of functional training and its practicality, barre workout strengthens and defines the thighs. "It also improves posture and increases flexibility and helps with balance and coordination."
Why not so popular?
Be it diet or workout, it's an age when anything interesting enough or giving instant results doesn't take long to become the latest buzzword, so what's preventing active barre workout from being taken up in fitness studios across the nation is the fact, "That it requires some form of prior understanding of ballet dancing. Not many people know that. Any barre instructor should really know the anatomy of the body, so it requires some investment in terms of time and orientation. But there is a lot of attention this workout is increasingly garnering and it's great for people who either want o become tall or lose weight." In India, every alternate person wants to either become taller or slimmer, or even both.
Dos and don'ts
It is not recommended for people with knee injury or ankle injury. "Since it's a workout that helps in mobilising ankle and foot work is a must."
manpriya@tribunemail.com