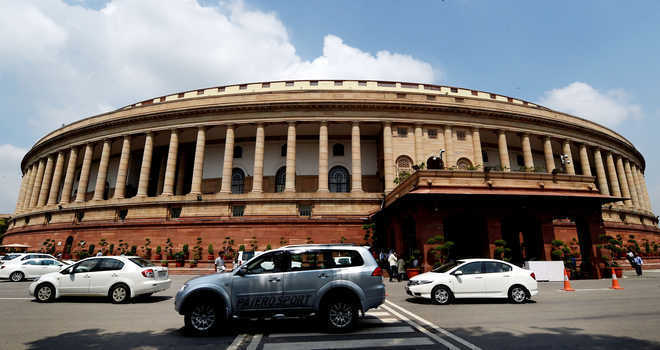 gspannu7@gmail.com
Naveen S Garewal
Tribune News Service
Hyderabad, August 20
BJP MP from Telangana's Nizamabad parliamentary segment Dharmapuri Arvind has stirred a controversy by suggesting a name change for this constituency, as it was "inauspicious".
He has suggested that the name of the Lok Sabha seat should be changed to "Indur".
Established in 1905 under the Nizam's Dominion, Nizamabad city has around 40 per cent Muslim population that has not taken well to the suggestion.
Arvind said the people of the constituency want a name change, "the name for both the city and the district should be changed as the people here feel the erstwhile ruler — the Nizam failed to fulfil the aspirations of the people".
He has further said the name Nizamabad has become very inauspicious and he was expressing the sentiments of the people.
"Indur has the name of Hindustan and it starts with 'Ind' like in India. It is auspicious and also nationalistic name," he said.
Son of D Srinivas, a three-time Congress MLA from Nizamabad, Arvind got elected to Parliament by defeating K. Kavitha, the sitting Telangana Rashtra Samithi (TRS) MP, and daughter of Chief Minister K Chandrasekhar Rao in April.
Nizamabad city has about 40 per cent Muslim population that has not taken to the suggestion well.
Politicians are viewing the move as an attempt at changing an Islamic name (Nizam-a-Abadi) taken from the Nizam of Hyderabad Asaf Jahi, VI, who had ruled Deccan during the 18th century AD.
Originally the district was called Indur, known to have originated in the name of king Indradatta who had ruled this region during 5th century AD.
The Nizamabad MP is the second BJP leader who has suggested a name change of cities and historical places, earlier Raja Singh, BJP's only MLA in the state assembly from Goshamahal, had demanded a name change for the state capital Hyderabad to Bhagyanagar. This was his election promise to the people.
Former two-time Congress MP from Nizamabad, Madhu Goud Yaskhi, has described the move as a frivolous attempt to divert people's mind adding that the MP should focus on fulfilling the election promises like getting a turmeric board for Nizamabad, rather than indulging in frivolous things like a name change.
It may be recalled that Nizamabad had the largest number of candidates in the last Lok Sabha elections as farmers from every village of this turmeric growing region contested against the sitting MP for not fulfilling the promise of getting a turmeric board here, as promised earlier.