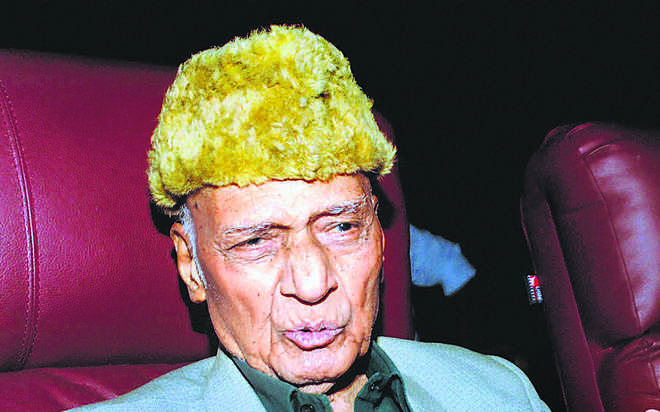 Rohit Mahajan
Rohit Mahajan
Deputy Editor
The great music director, Mohammed Zahur Khayyam, who died on Monday night at age 92, was a poet at heart. He burst into ashyars at the first opportunity, intoning shers in the slow manner of a poet at a mushaira, repeating lines over and over again, joy brimming in his eyes. He loved the beauty of words arranged in a certain order; thus, perhaps, both instinctively and by design, his music never distracted from the poetry. He didn't employ a massive orchestra, trusting more the stringed instrument than the drums or the dholak or tabla — just sample the beautiful use of the violin in Hazaar raahen mud ke dekhin (Thodisi Bewafai, 1980).
His love for poetry and literature is the reason that his greatest work had the poetry of Sahir Ludhianvi, Majrooh Sultanpuri, Nida Fazli, Naqsh Lyallpuri and Gulzar, to name a few. Khayyam was one of our last links to the golden era of Hindi film music. He began his professional career in 1947, at the age of 20. He left a very distinctive imprint of his beautiful, soulful music in every decade he was active in, right up to the 2010s.
It must also be said that Khayyam deeply believed in the idea of India — he did not migrate to Pakistan when his partner, Rahman, did. Khayyam married singer Jagjit Kaur. And she remains Jagjit Kaur, the two of them not seeing any need for any change. For a man born in 1927, Khayyam seems to have been incredibly modern and progressive. In interviews, the two of them freely used 'Eeshwar', 'Waheguru', 'Khuda' and 'Allah' interchangeably.
The start
Khayyam was born at Rahon, near Jalandhar, in February 1927. He hated studies, but loved the movies, dreaming of working in them, dreaming to be the next KL Saigal. At 11, he ran away to his uncle in Delhi, who welcomed him with a tight slap when he realised he was dealing with a young runaway; Khayyam's grandmother saved him, and his uncle relented and took him to his friends, the music directors Husnlal and Bhagatram, also from Jalandhar. They and their third brother Amarnath were Khayyam's gurus for five years before he tried his luck in Bombay. But at 17, he faced failures and decided to move to Lahore to hone his music under Ghulam Ahmed Chishti, known as 'Chishti Baba'. He got lucky with Chishti Baba —Khayyam had gone to his music room without permission, which made the great musician angry; but Khayyam was the only man in the room who could remember a particular tune which Chishti Baba had played on his harmonium. Khayyam found another loving guru.
The breakthrough
Over the next few years, frustrated by the struggle, Khayyam joined the British Army. But soon enough, he figured out that he was an artist, not a fauji. Back in Bombay, Khayyam got a break when his gurus, Husnlal-Bhagatram, made him sing a duet with the famous Zohrabai Ambalewali in Romeo and Juliet (1947). Khayyam would proudly relate that the lyrics were by the great Faiz Ahmed Faiz himself. This song brought him to the attention of Jaddan Bai, the mother of Nargis, who was working on Heer Ranjha, which released in 1948.
And so, Khayyam was Sharmaji and Rahman Vermaji in the team 'Sharmaji-Vermaji', which started composing music together in 1947. Khayyam said his gurus, the brothers Husnlal, Bhagatram and Amarnath, gave the team the name 'Sharmaji-Vermaji', perhaps, due to the tensions in the subcontinent because of the impending Independence and Partition.
When 'Vermaji' went to Pakistan, Khayyam went solo as Sharmaji, and came to his own as Khayyam only in 1952, with the movie Footpath. It is said that men such as Majrooh Sultanpuri advised him to start using his real name then. Khayyam said in an interview that it was Zia Sarhadi, director of Footpath, who advised him to stick to just 'Khayyam'. The movie had an enchanting Talat Mahmood solo — Sham-e-gham ki qasam. The ethereal beauty and appeal of this song have not diminished in the subsequent 67 years. The five incognito years as 'Sharmaji' were over. Khayyam had arrived.
Pinnacle of success
Khayyam tasted great success, but he avoided overwork, perhaps, the greatest trap of success. Javed Akhtar, lyricist and writer, has written that just one song of Khayyam's is enough to "make him immortal": 'Woh subah kabhi to aayegi', from Phir Subah Hogi (1958). Khayyam got the movie despite it starring Raj Kapoor, who was inseparable from the music director duo of Shanker-Jaikishan.
Khayyam would relate that the director, Ramesh Saigal, on the recommendation of Sahir Ludhianvi, wanted to work with a music director who had both 'read and understood' Dostoyevsky's Crime and Punishment, on which the movie was based. Khayyam had both read and understood it. Yet, Raj Kapoor tested him, asking him to first tune a tanpura, and then listened to five of his tunes. "Raj sahib didn't give a reaction, and went out with Ramesh Saigal. We thought he didn't like the music," said Khayyam in an interview. But after 40 minutes, Saigal came in and kissed Khayyam's forehead, and said Kapoor was mesmerised by the music. The music is haunting and magical even now: Aasman pe hai khuda aur zameen pe hum, Chin-o-arab hamaara, Phir na kije meri gustaakh nigahon ka gila.
Khayyam had great success in the 1960s with Shola Aur Shabnam and Shagoon, to name just two. He slowed down a bit in the 1970s when his kind of music became rarer, but he did provide his trademark poetic music in Kabhi Kabhie, Trishul and Noorie. The 1980s brought greater triumph with Thodisi Bewafai, Dard, Ahista-Ahista, Dil-e-Nadaan, Mehndi, Bazaar, Umrao Jaan, Razia Sultan. The songs of Umrao Jaan added a new dimension to Asha Bhosle's singing.
Khayyam faded away after that, though his music remained fresh like a spring in the hills — sample Pyar ki duniya basaayi hai from Bazar-e-Husn, a movie that came and sank without a trace in 2014. It has the beauty of melody and poetry, which Khayyam epitomised. Right till the end, Khayyam was true to his love for melody and words.