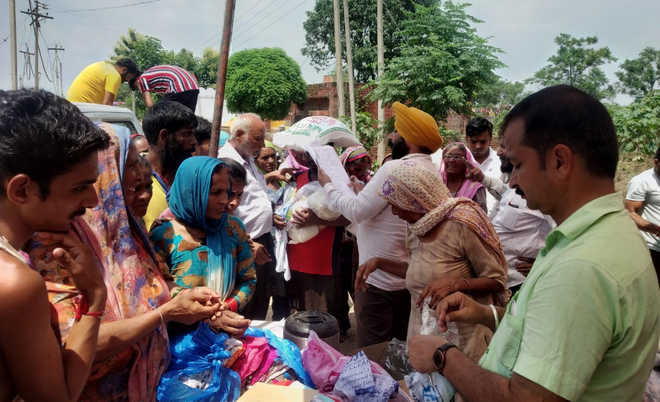 editorial@tribune.com
Tribune News Service
Ropar, August 21
People from various parts of the state have come forward to help the flood victims in Ropar district by donating essential items.
The district administration has received grocery, clothes and fodder from various social organisations and residents of Muktsar, Fatehgarh Sahib and Ludhiana districts.
While a truck carrying flour, rice, refined oil and other food items was sent by the residents of Muktsar and Fatehgarh Sahib, 500 sets of clothes for children have been sent by the Ludhiana district administration. Muktsar residents have also promised to send another truck of fodder soon. Besides, 800 suits have been donated for women. Punjab Cabinet Minister Sundar Shyam Arora in his personal capacity has sent 400 quintals of fodder.
Today, the district administration distributed bags of grocery comprising flour, rice, refined oil, pulses, spices, salt, sugar and tea leaves to the poor, whose shacks were washed away in the floods.
Terming the heavy flow of water in the Swan and Sarsa as the main reason for floods in the district, Speaker Rana KP Singh said the Centre must construct dams on these rivers to avoid such a situation in future.
Rana, who was interacting with the media after visiting the affected villages along with DC Sumeet Kumar Jarangal, said there was no chance of floods in the area due to discharge from Bhakra Dam as the capacity of the Sutlej was 2 lakh cusecs.
He said the Swan and Sarsa enter into Ropar district from Himachal and there were no arrangements to regulate the water in these rivers. "To overcome this problem, the Centre must come forward to set up dams on these rivers."
He said the district administration, with help of the NDRF team, rescued over 500 people. Now, the officials are on their toes to provide shelter, food, water and clothes to the displaced people, Rana added.