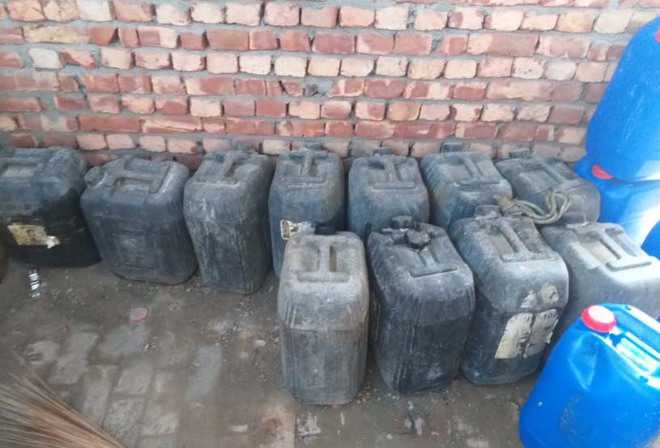 editorial@tribune.com
Aman Sood
Tribune News Service
Patiala, August 21
From acid to "foreign fat" obtained from unnatural sources and high unnatural fat content labelled "substandard and unsafe", the milk products collected last week from the Singla Milk Chilling Centre have again failed to meet the quality standards.
Despite being booked last year for the same offences, the centre continued its nefarious activities in Punjab, Himachal Pradesh and Haryana. The state food testing laboratory in Kharar has found the centre in Devigarh block of the district guilty of selling paneer "unfit for human consumption".
The samples tested included those of milk, butter, desi ghee, paneer, skimmed milk powder, caustic soda and acid. Sources said traces of acid being used and its odour detected from the collected samples spoke volumes about the threat to consumers.
The samples of milk, butter and desi ghee were found substandard, while caustic soda and vinegar were found to be "adulterated", which meant they were in original form. However, the sample of the skimmed milk powder had met the quality standard and was found safe, while the report of desi ghee was awaited.
The report reveals that a mixture of acid and some oil has been detected, indicating that adulterants were used in milk products. "Sodium hydroxide high fat content of 48.9 was detected as against the prescribed limit of 40-43," it read. The products were declared substandard and unsafe as per the sections of the Food Safety and Standards Act, 2006.
Experts suggest that long-term use of such products can cause cancer or skin-related ailments, while short-term use can affect stomach bowel movement, allergies and heart-related issues.
Health officials confirmed that paneer was unsafe as it contained some foreign fat instead of milk fat. "Milk and butter are sub-standard. Caustic soda contains sodium hydroxide, harmful for human consumption in any form. Instead of acetic acid, vinegar contains some acid and oil, which was also used to make paneer," they said.
---
The 'dark side' of white revolution
In August 2018, the police had exposed how adulterated paneer was making way into local markets in connivance with health officials for Rs 5,000 per month
Also, these officials charged Rs 10,000 for each food sample promising a favourable lab report
The police had sealed Singla Chilling Centre after recovering refined oil, soda, acid and detergent powder