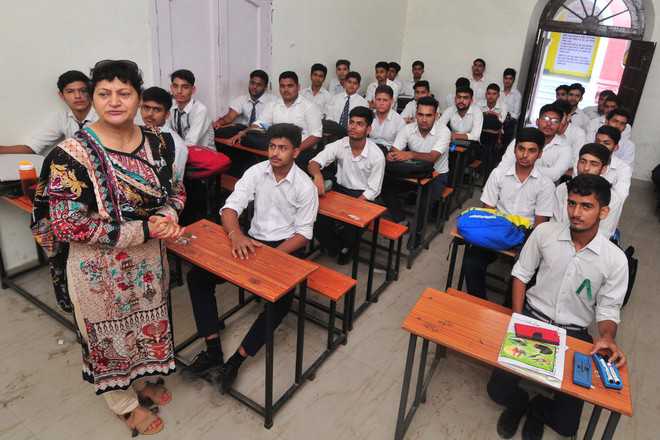 editorial@tribune.com
Army Public School, Udhampur, held its annual investiture ceremony in the presence of the staff and students. The appointees were honoured with sashes and badges by the Principal and the Vice-Principal. Akashdeep Singh was declared the head boy and Akashika Mate the head girl. Other portfolios included vice-head boy, vice-head girl, cultural secretary, sports captain, literary captain, assembly incharges and house captains. The ceremony was followed by an oath-taking ceremony. Principal Sanjeev Kumar in his address congratulated all selected appointees and urged them to perform their duties impartially.
School holds career guidance session
Birla Open Minds International School on Wednesday organised career guidance and counselling session on the school campus here. Principal of the school Sanchita Mukherjee said career guidance and counselling programmes prepared students for the changing workplace of the 21st century by broadening their knowledge, skills and abilities and improving their decision-making skills. The speaker in the session was Rahul Dahiya, who delivered a lecture on career guidance and design thinking.
School forms activities clubs
Government Sri Ranbir Higher Secondary School has established four Houses namely Wisdom, Peace, Eco and Unit to help students indulge in various activities. The activities of Wisdom Club relate to conduct of literary activities where students are taught to read literature of prominent writers. The Peace Club emphasises on informing students about peace initiatives taken by renowned personalities of the world. The Eco-club has been raising awareness among children to save natural resources for future generations while Unity Club activities revolve around activities with focus on national integration.
SMVDU V-C releases book
Prof Ravindra Kumar Sinha, Vice-Chancellor, Shri Mata Vaishno Devi University (SMVDU) on Wednesday released a book on engineering mechanics authored by Dr Sanjay Mohan, Faculty in School of Mechanical Engineering, SMVDU. Dr Eswaramoorthy, Dean, Faculty of Engineering, and Dr RK Mishra, Head School of Mechanical Engineering, were also present at the event. The Vice-Chancellor appreciated the writing skills of the author and also the manner in which the basic concepts were presented.and capacity-building programmes.
Students visit companies
Under the ongoing programme of experiential and hands-on learning, the Commerce Wing of J-K Public School (JKPS), Kunjwani, visited the Pepsico Plant, Jai Beverages, SIDCO at Bari Brahmana on Wednesday. Accompanied by two teachers namely Parvinder Kour and Munish Gupta, a group of 60 students of Classes XI and XII Commerce stream visited the plant and got the first-hand experiences of working of the bottling plant. The students visited the plant where they witnessed the production and processing of juice and soft drink.
Inter-school chess competition
J&K Rural Sports Club organised Inter-School chess competition at Shiksha Niketan School and RM Public School. As many as 24 students in the age group of 10, 14 and 18 years participated in the sports event. The main aim of this competition was to develop mental ability of the students. Rameshwar Mengi, Principal of the institution, appreciated the students and teachers.