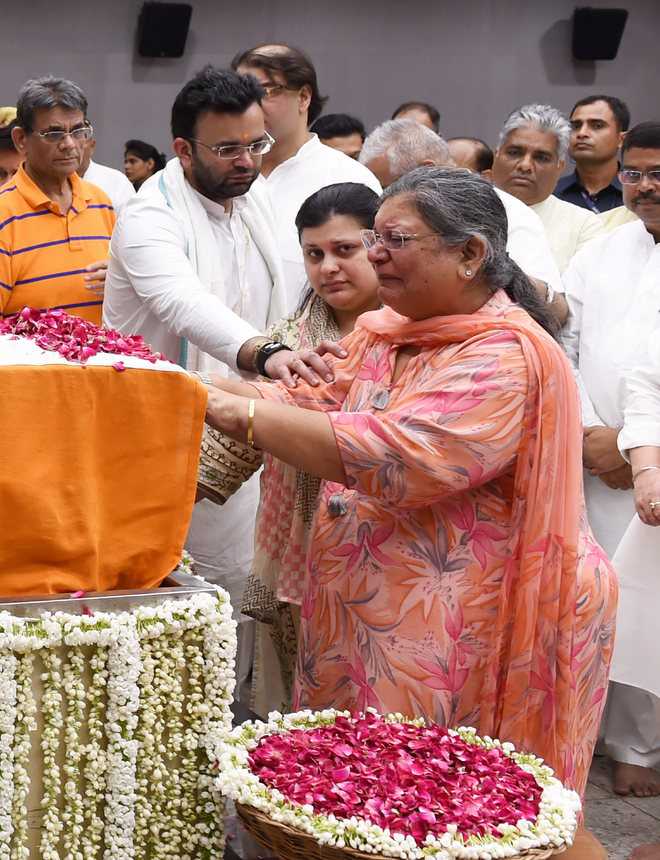 editorial@tribune.com
Vibha Sharma
Tribune News Service
New Delhi, August 25
As the flower-decked gun carriage carrying the mortal remains of Arun Jaitley made its way through Delhi roads and entered the BJP office at Deendayal Upadhyaya Marg, there were moments of nostalgia reflected by colleagues, many of whom he helped flourish as politicians, office staff who had seen him command strategy meetings, and cadres who once saw him stand tall at the party's high place.
Personal accounts of his generosity, friendships, humility, humour, intelligence, senior leaders to common people to journalists, everyone had a story to tell about the BJP stalwart whose demise yesterday marked the end of an era in the party when politics used to be in a different genre. Several leaders admitted there will never be another leader like Jaitley in the BJP.
As his body arrived at the BJP office — the place where he had held countless consultations, briefings and strategy meetings, the looming clouds did not make way till the time he reached the end of his last journey at the Nigambodh Ghat.
This was the second time this August that the BJP headquarters was witnessing the scene, the last being when mortal remains of Sushma Swaraj were brought in. Incidentally, Jaitley was a part of what many journalists covering the party in 2004-2014 (the pre-Modi-Shah era) famously referred as "D4" — the group of top four in Delhi — Arun Jaitley, Sushma Swaraj, Ananth Kumar and M Venkaiah Naidu — apart from the then senior-most leader LK Advani. With Naidu now the Vice-President and out of politics, and the other three gone, the day also marked an end of that particualr phase of the BJP politics.
It is said that Jaitley never nursed a grudge against anyone. During Emergency, he was arrested under preventive detention and remained in custody for 19 months. But Jaitley always remembered that period without any hard feelings against those responsible for his detention.
Since yesterday, there have also been countless accounts of his generosity, his helpful nature, about this 'Munna tailor' he helped survive a serious heart ailment, his heart-broken personal staff, Mohan Bhandari who looked after his personal needs, his driver and his assistants. Jaitley treated his personal staff like family, looking after their needs, homes and also their children's education. Children of his personal staff studied in the same school as his two children. Some even went on to study in foreign institutions.
A workaholic, an active mind till the end despite deteriorating health, his penchant for knowing everything and everything good — Mont Blanc pens, 'Jamawar' shawls et al — all have now become memories. It rained heavily as the mortal remains of "Delhi's favourite Punjabi boy", an "amazing story teller" and a "charming old world politician" were consigned to flames. Adieu Arun Jaitley, the BJP's man of all seasons and more than that a good human being.